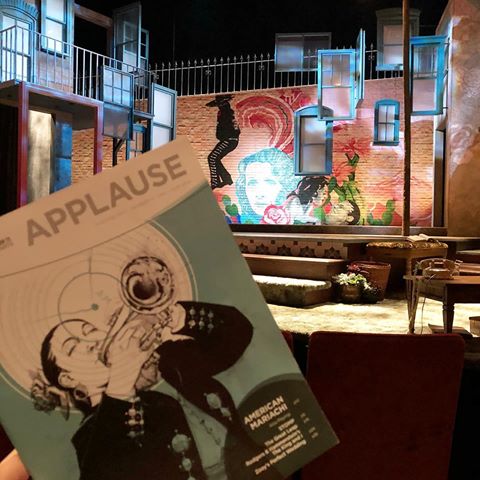 Tender, touching (yes, I fought back tears, but half the audience was sniffing by the final scene too) and transportive, American Mariachi at Denver Center explores the powerful way music connects us to our culture, our families and to ourselves.
Live Mariachi music is seamlessly woven throughout the 90-minute, intermission-free, performance as the audience joins Lucha, a young Mexican-American woman determined to found an all-female Mariachi band in order to connect, through music, with her ailing mother who is slipping into dementia. Facing stigma and pushing against cultural norms, Lucha gathers other women together to practice in secret as they learn the traditions of Mariachi. Weeks pass and the group pulls together as they prepare to play a song that had been lost to the passage of time, but has the power to pull Lucha's mother back from her despondent state. Inspired, rich, and abundant in music and meaning, this play is a winner. See it!
SHOW DETAILS
Dates: Jan 26 – Feb 25, 2018
Theater: Stage Theatre
Run Time: Approximately 90 minutes with no intermission
Ticket Price: Starting at $20. Prices vary by date and availability.
Age Recommendation: 10+
Advisory: Mild profanity
WOMEN IN MARIACHI EXHIBIT
Come early to experience a lobby exhibit highlighting more than a century of women in mariachi. Curated by Dr. Leonor Xóchitl Pérez, the exhibit includes stunning historical photos and beautiful trajes (suits). The lobby is open Mondays – Saturdays from 10am – 8pm, and Sundays from 10am – 6pm.
ABOUT THE PLAYWRIGHT
Denver favorite Playwright José Cruz González returns to the DCPA with another heartwarming story, following his lyrical magical realism piece September Shoes in 2005 and the laugh-out-loud comedy Sunsets and Margaritas in 2008.
Disclosure: the DCPA gave me a free ticket to the show, but what I wrote here are my honest thoughts written moments after the actors left the stage. 🙂