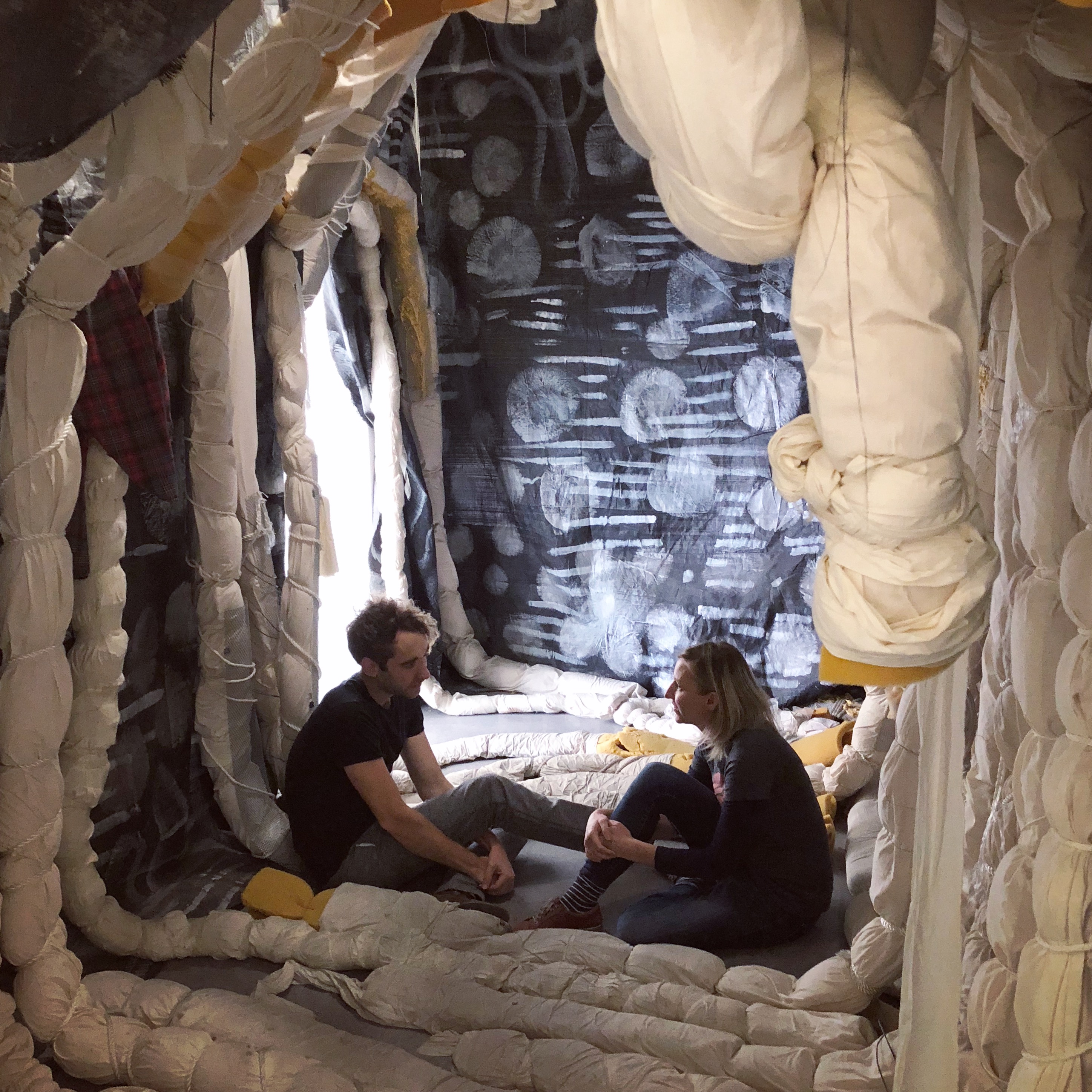 As part of their Project: Aloft Star series, Aloft Hotels hosted a free intimate concert by British musician BANNERS on October 17th. Before lead singer Mike Nelson took the stage, we took him out for a quick walking tour chat to learn more about the evolution of his career and his thoughts on life and music, while also introducing him to a Denver gem. Meet: BANNERS | Visit: Dikeou Collection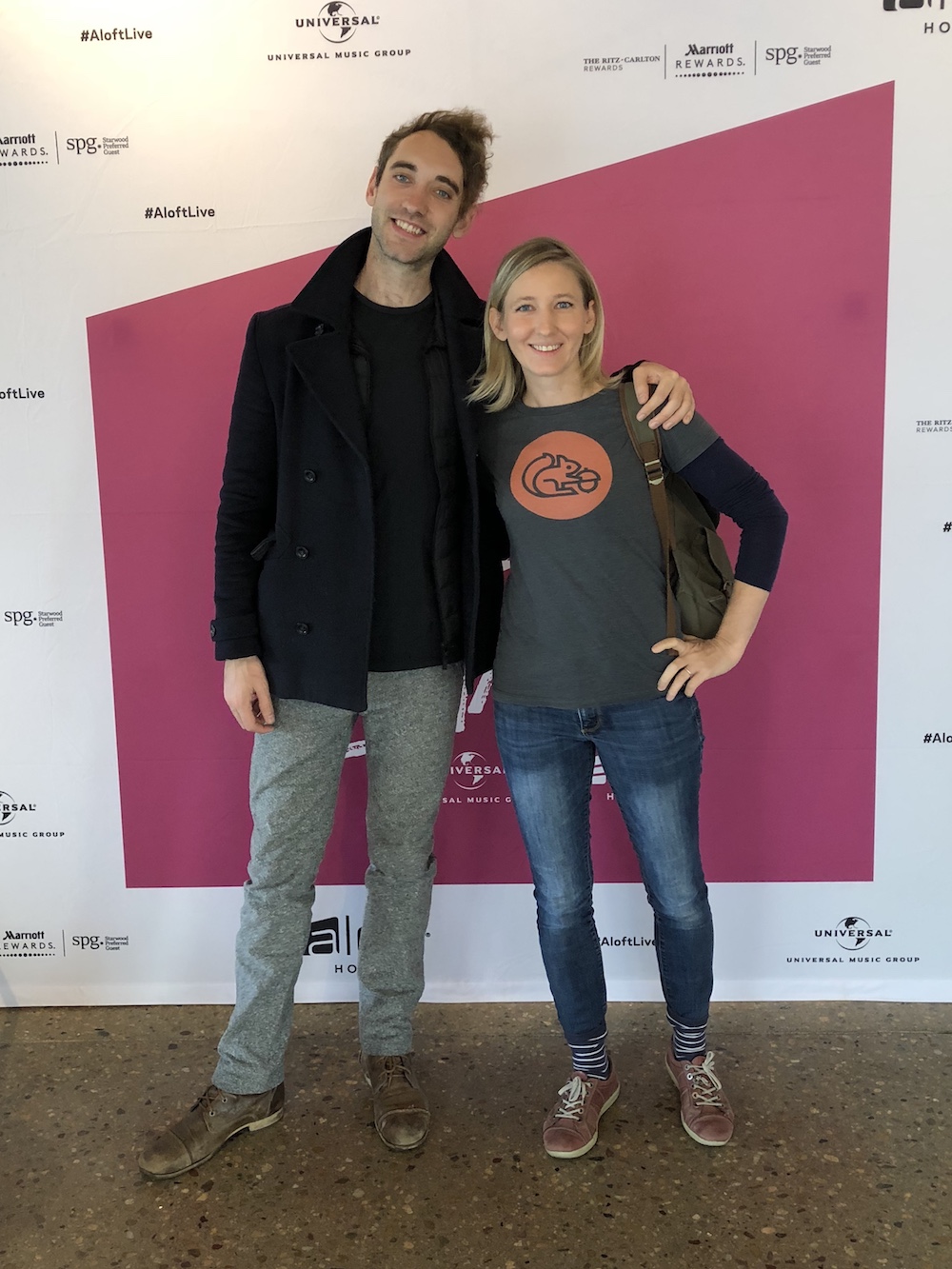 Originally from Liverpool, but currently living in Toronto, Mike Nelson, aka BANNERS, grew up singing in the Liverpool Cathedral choir from the age of 7 until age 15. As he explains, "when you're surrounded by music that much, it just becomes hard-wired into you — the love of how harmonies and melodies work, and the love of performing." Listen to any of BANNERS' ethereal songs and it's not hard to hear how the transportingly beautiful sound of choir music has worked its way into his adult sound. Releasing his first self-titled EP in 2015, his catalog includes upbeat pop songs that make you feel as if you could jog 20 laps around Cheesman Park without stopping ("Someone to You"); poetic ballads that leave you lost in the sound of Mike's voice ("Ghosts"); and sweet songs you wish your boyfriend would dedicate to you ("Start a Riot").
I really love the opportunity to make peoples' day a little bit better and to make peoples' lives, even for an hour or an hour and half, a bit better; to make people feel safe and welcome and comfortable, even in their own city. It's your job to do that and I love that about music. I got addicted to it really.
Listen to BANNERS: http://www.listentobanners.com/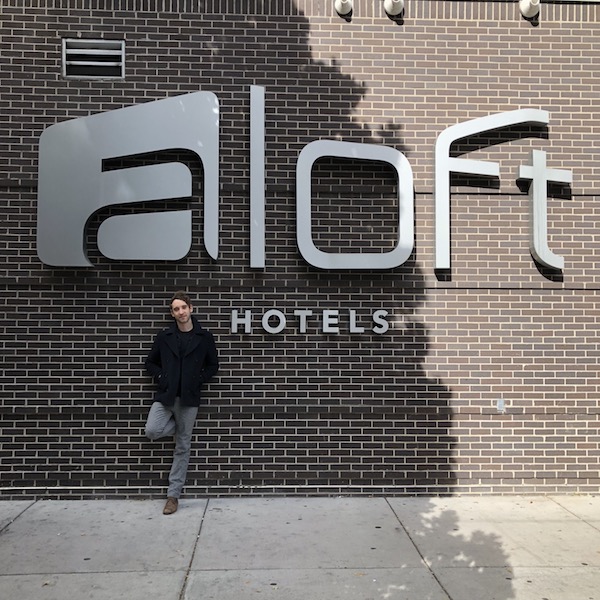 Talented, but also humble and approachable, I met up with Mike in the Aloft Hotel lobby where he was nursing a cup of tea with lemon while answering questions about the equipment set up for the night's concert. The lemon tea, he explained, was an effort to soothe his voice after playing an all acoustic concert at The Bluebird the night before due to a power outage in the area. Once it became obvious the power wasn't going to come on, Mike and the three session musicians who accompany him, made their way to the middle of the theater floor and played a set while fans used cellphone flashlights to illuminate the show (check out the video @BannersMusic). While singing un-amplified had taken a toll on his voice, Mike smiled as he reminisced about the magical experience that had resulted from everyone pulling together to still make the concert happen, "you can't plan something like that because if you did, it just wouldn't be the same."
I live in Toronto but Liverpool will always be home. Liverpool is a city with a real sense of itself, of it's own identity. It's confident and defiant. It has that mix of people and cultures that only port cities can really have. I wouldn't want to be from anywhere else in the world.
During his current American tour, BANNERS made stops in Denver, San Fransisco, Boise, Portland and Seattle. And Mike and the lads who accompany him travelled to all these places in a van they bought just for the occasion. Finally managing to slip away from the barrage of logistical questions ahead of the evening's Project: Aloft Stars performance, we promised to be back to the hotel in 30 minutes and slipped out the door.
As we walked to the Dikeou Collection, a location I had selected due to its thrilling collection of unique, immersive and experiential contemporary art, Mike and I chatted about his impressions of Denver. "It feels more like a coastal city; it's so cosmopolitan," he commented. Posing for a quick photo with Denver's iconic Blue Bear (properly called "I See What You Mean") our conversation quickly changed to a discussion of the importance of investing in the arts and how grand it would be if the health and happiness of a city's citizens was the top priority.
Crossing the 16th Street Mall, Mike noted the "European high street" feeling of the bustling pedestrian walkway as I gave a 30-second Denver history lesson about the D&F Tower (it was modeled after a tower in Italy! Up until the 1950s it was Denver's tallest building! It sits on the 16th Street Mall which was designed by I.M. Pei!).
Arriving at 1615 California, we only barely managed to find the main entrance due to the mass of yellow scaffolding pipes obscuring the building. Inside the lobby, a modest sign on a stand-alone post directs Dikeou Collection visitors to take the elevator to the 5th floor. Once the elevator doors open, the experience begins. The Dikeou Collection, a contemporary art collection established in 1998 by siblings Devon and Pany Dikeou, occupies an entire floor of former office spaces which still retain their 1940s aura. The collection is free and open to the public during specific hours (or by appointment). Mike thought our destination was a brilliant choice as his mother holds a doctorate in modern art and would be so thrilled to learn he had visited an art gallery.
>> 5 Things to Do at the Dikeou Collection
Hold a baseball signed by Babe Ruth (yes, you really do get to touch it)
Marvel at a life-sized roadster made entirely of cardboard
Walk through the belly of a whale thanks to artist Agathe Snow
Climb over a massive, room-filling block of parquet flooring
Become lost in a maze of interconnected, art-filled rooms and realize this place is a magical wonderland unlike any other art gallery/museum experience you've ever had and you can't wait to bring your friends
[PHOTOS] Mike at the Dikeou Collection
>> 5 Interesting Things about Mike Nelson aka BANNERS
He was a movie extra before becoming a full time musician. For the film "Jack the Giant Slayer" (2013), he spent a couple months dressed as a medieval knight.
He likes to collaborate with people as much as possible because he feels it's too easy to get stuck on your own melodies when working alone.
He hates the feel of pipe cleaners.
He's a big fan of the Liverpool Football Club.
He lives in Toronto, which he says is a perfect location due to it's great music scene, proximity to New York City and central location between Los Angeles and England.
>> Recreate this Outing 
Stay at the Aloft Hotel downtown (800 15th St.), or just breeze through the lobby and buy yourself a snack or a bottled water.
Take a selfie in front of the Blue Bear (15th and California).
Walk to the Dikeou Collection (1615 California) and visit each of the artworks pictured in Mike's photo gallery above.
Stand or sit in "Sludgie, the Whale" by Agathe Snow and listen to the song "Shine a Light" by BANNERS (that's what he sang for the mini concert video @GoPlayDenver)
Walk along the 16th Street Mall and admire the D&F Tower.