Pedro was born in Miami, Florida, and raised in Venezuela until the age of seven. When his family relocated to the United States, he spent his adolescence in Florida and eventually made his way to Colorado. Pedro has degrees in both Business Marketing and Nursing. His work is influenced by the diverse cultures of his upbringing and his world travels.
Tell me about painting your first mural.
Jaime (Molina) found us the wall. It ended up being 2 blocks from where I lived, so it was perfect for me. It was an amazing experience, by far one of the experiences that has brought the most stories with it. We had so many different random encounters with the crowd of people that were in this neighborhood (RiNo) at that time.
We started painting in February and so it was freezing cold and I had never painted a mural. One day would be 70 degrees and the next day, it would be 20 degrees. It ended up taking us weeks longer than we had planned because we couldn't have consistent paint days. There was only about a 3 hour window when that wall would get any sunlight at all, so it was quite challenging, but it was great. With that mural, we really challenged ourselves to do something different than all the other things we were seeing around town and really make it as intricate as our gallery work at that point in our careers, so that mural had a ton of different layers and facets to it. That building was eventually demolished, so our first mural is no longer there.
In general, what's your process for creating a mural?
For us, together (Jaime and Pedro), we've never used a projector this point. And that's not by choice, we just never really had access to one. Every single time painting a mural is a brand new experience because you're utilizing different surfaces in different venues. Every single one of our murals is site specific. I don't have a book of drawings that I'm waiting to put on a wall. We get to the location and we get inspiration from the surroundings, from the buildings, from the people, from the lighting, from the colors around, and then go from there. As far as getting an image on a wall, every single time I feel like t's my first time paining a mural. I don't even know where to start and then it starts coming together.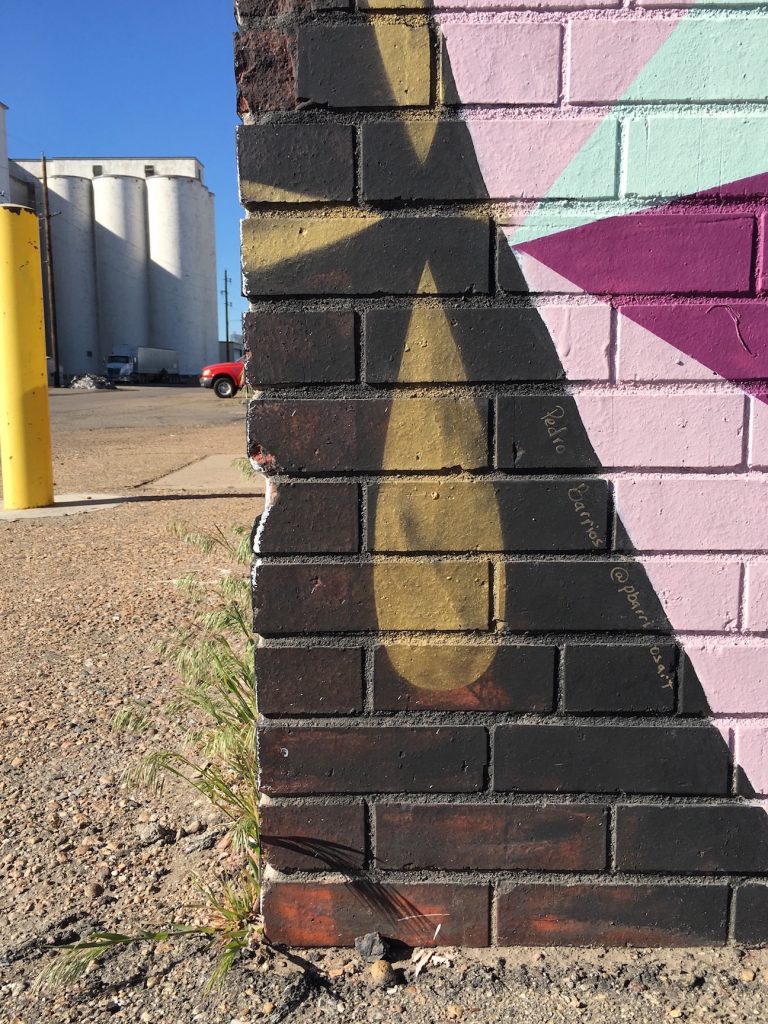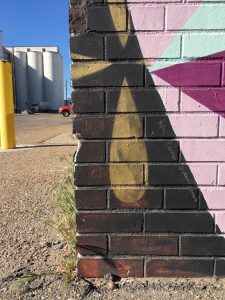 We usually have a mini sketch that Jaime and I start with as all of our work so far has been commission based. But it all changes as we're working. We never have a final rendering of what the mural is going to look like. We have an overall idea and know the palette we're going to work with, but we let it evolve as we're going. So if Jaime is painting something and I think it needs more red in an area that he's painting, I'll go over and he has no problem with me editing his work, or vice-versa, he'll come over and paint over something I've just spent hours painting because it doesn't work. And it's 100% fine with me.
We use chalk and charcoal, or spray paint to map out the mural, but we never use a grid.  The kind of paint we use for a mural depends on the actual surface, how much light it's going to get, whether it's indoors or outside and a million other things. We've done a lot of spray paint pieces, but I think we're more comfortable using traditional latex and then using spray paint to add to the piece. The first time I ever used spray paint was on that first mural I painted with Jaime.
That's one of the things about a mural, we're obviously painting it and it's our voice, but it ends up being a piece for the city and the neighborhood.
Who has been the biggest influence on you?
Growing up in a different country (Venezuela) certainly had a lot of influence on me and my work, but if I had to say one person, as far as my biggest influence, I would say Jaime (Molina) because every single time we paint together he influences my work. I'm in awe of how amazing he is.
What do you think is the role of art in the public space?
That's a hard question. Well, it is and it isn't. It obviously beautifies the city. It also adds a lot of different people's voices. Jaime and I both come from Hispanic backgrounds to a certain extent and I think a lot of our work is influenced by those cultures.
Art in the public space keeps people's minds moving. I think street art movements have brought people back into the art world and gotten them excited about getting to know an artist and getting to know the story behind their work. Even just taking selfies with a mural and posting them on social media is a way that people interact with public art. I think that fun is coming back into the art world.
If you could put your artwork on any space in the city, where would that be?
It's a ton of different places. I think most of the walls in Denver end up being the same because most of the architecture is the same. There are some huge buildings downtown that I think would look great with some huge murals on them. I've been pretty excited about every mural I've ever painted, so I'm not going to complain at all.
What's something you think passersby might not notice about your work at first glance?
In the mural near Black Eye (8th and Sherman), the name of the building, MOTO, is hidden in the geometric lines. The "M" and the "O" are on one side and the "T" and the other "O" are on the other side (of the garage opening).
I like viewers to take in the work for themselves and appreciate it on their own terms. I think one of the things that has made us successful in this part of town (RiNo) is that people have been able to relate to the work on some level, for whatever reason.
What does the future hold for you in terms of your art?
There are definitely more murals in my future. Jaime (Molina) and I will be doing some indoor projects and some outdoor projects too. There should be one near The Source and one near Wash Park. We have a ton of projects coming up.
What does summertime in Denver mean to you?
Summer is definitely my busiest time of year as it's when Jaime and I get the right weather to do our work. In summer, I'm usually painting, riding motorcycles or skating. I do love summer, as well as winter.
What do you usually order at a coffee shop?
An almond milk latte on a cold day and an iced one on a hot day.
Go see the art! Here's where to find some of Pedro's works: