Yes, it's a hotel, but it's also a wonderful art gallery displaying a curated collection of works from the 20th and 21st centuries. If you're museum hopping downtown, be sure to include a spin through the public spaces of the ART on your itinerary as they are truly brimming with inspired works of art. The ART is also a great place to grab a drink with a friend, enjoy lunch with a view, or spend the night as part of a luxurious Denver staycation.
The rich visual experience of this unique hotel begins before you even enter the building thanks to Leo Villareal's delightful installation of 22,000 LED lights that display ever-changing abstract patterns in the ceiling of the hotel's main entrance. Pass through the sliding doors just beyond the valet stand and you'll find yourself in an airy contemporary art gallery complete with gallery guides on the coffee tables. Pick up one of these guides and begin your leisurely browsing. Highlights of the 1st floor include a model of the iconic "Big Sweep" (the broom and dust pan outside the Denver Art Museum) by Coosje Van Bruggen and Claes Oldenburg; the playful, yet dramatic "Wall Painting #397" by Sol LeWitt with it's bright primary colors and giant circle and square motif; and a formica fish lamp created by architect Frank Gehry.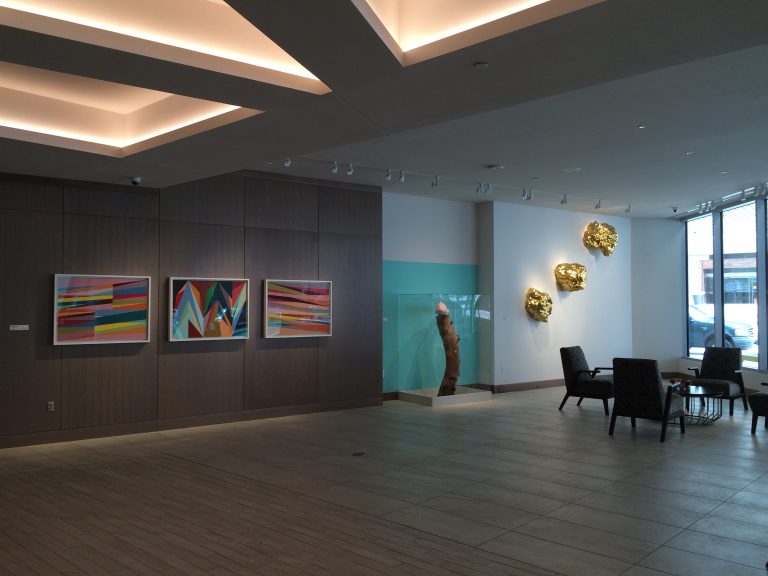 The lobby of the hotel is on the 4th floor, so hop into the elevator, enjoy the video art installation in the elevator and then get ready for a stunning reveal when the doors open. Upon arriving on the 4th floor, one is immediately taken by the floor to ceiling window panels that open out to a graceful rooftop terrace, and by a bronze sculpture of a young girl who stands ever ready to greet hotel guests. To the left, you'll find the hotel's friendly staff at the check-in desk and a hallway that is home to several wonderful pieces. To the right, you'll find FIRE restaurant and bar, which offers contemporary American cuisine accompanied by some of the best views in the city. If the weather allows, or if the fire pits are on, venture out onto the terrace to discover cozy seating areas and one of the city's most charming patio spaces. Highlights of the 4th floor include a horse sculpture by Deborah Butterfield, one of Josef Albers' experimental color/rectangle paintings and a dot painting of the cosmos by Vance Kirkland.
5 Works of Art You Should See at the ART:
Images of the artwork and artist background information courtesy the ART, a Hotel.
Hotel Website: http://www.thearthotel.com
Hotel Location: 1201 Broadway