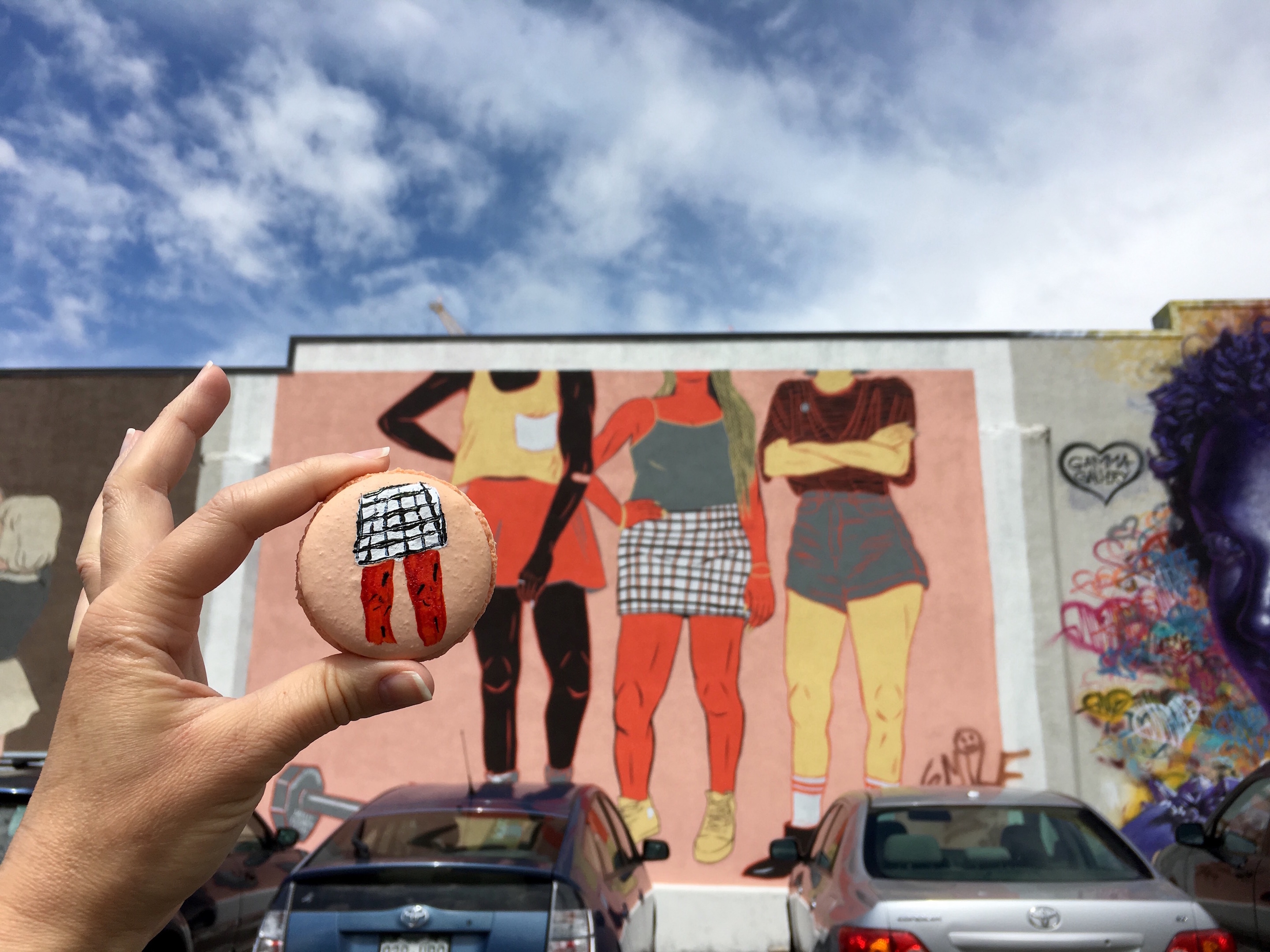 Molly grew up in Aurora, Colorado and graduated from Metro State University. She works in a variety of formats including prints, paintings, digital media and comics, frequently mixing techniques and experimenting with new processes while making a finished piece. She has a studio space at The Temple in Five Points.
Tell me about painting your first mural.
I did store windows for a long time and that's were I learned to think about composition on a large scale. This was at Buffalo Exchange on Broadway where I worked for 5 years. Our store was a franchise, versus being a corporate-run store, so there was a lot of freedom. We didn't have much of a budget, but I had all these art materials that I was excited to use, so I ended up doing all these window displays. I was inspired by window designs by other stores, like Bergdorf Goodman and experimented with displays that focused on a single item and displays that were full of color and had lots and lots of items.
The first real murals I did were in a small, tiny gallery, where it was more like "they'll let me paint here." It wasn't a paid thing. I would sketch something out and then project it [onto the wall]. When I did my first one, I was terrified. The second mural I did was at the McNichol's Building through Redline as part of their Press Play exhibition. That was my first paid mural, but I didn't really feel like I was a muralist because I had only done murals indoors and they weren't like street art pieces.
In general, what's your process for creating a mural?
The Meininger's mural began as a call for entry, so I sent them images of different pieces I had done. When I found out that I got it, and then who I would be doing this mural with, I was like, oh my god, I can't believe I was included with some of Denver's best like Pedro (Barrios), Jamie (Molina) and Amanda Marie. It was weird to think I had a space next to them, when I feel like a total rookie. Luckily, everyone was so supportive. From talking to other artists, I was able to figure out what would work and what wouldn't in terms of materials. The Meininger's wall is very textured and that's not something I was used to. I hand paint everything, and unlike many street artists, I don't use any form of spray paint, so I ended up going to Home Depot and getting exterior paints.
The mural started with a sketch, which I had made just a few weeks before the mural was going to be painted. I draw everything first, and then the only thing I do digitally is figure out my color palette. I projected my design onto the wall because I wanted the proportions to be pretty dead set. In my drawings, I like for it to be very obviously hand drawn and that the artist's hand is left in there, but that being the biggest mural I'd ever made and with the rough texture of the wall, I wasn't able to draw straight on it, so I ended up using the projector to get all the lines of my sketch onto the wall. After that, I spent about a week filling in all the colors.
Working that large is super liberating, but there are also many moments when you need to improvise, like "the painting isn't filling into these cracks, so what do I do now?" There's a lot of trial and error with materials.
Who has been the biggest influence on you?
That's so tough. Let's see, on the grand scale, definitely Margaret Kilgallen, Adrian Tomine, and a lot of comic book artists. I feel like I really got into art when I found my voice through graphic novels and comics. I grew up with comics like Betty and Veronica, Calvin and Hobbes, Far Side and Matt Groening's first comics. There's an art to being able to tell a whole story in just three scenes. After about middle school, I started to get into darker comics like Johnny the Homicidal Maniac, as I felt more and more like an outsider. And then comics and graphic novels by Charles Burns, Chris Ware and Adrian Tomine. I loved seeing people who were breaking up rules of sequential storytelling.
What do you think is the role of art in the public space?
I think it's really important to have a form of art that is accessible for anybody to look at. Especially in Denver, there's not a ton of artist-run art spaces, there are commercial galleries, and great ones at that, but that makes a difference as to who gets a shot to be on the wall. So I think that on the street is a great place to create a platform for yourself, where it doesn't matter what your background is. Art on the street can give emerging artists, maybe ones who don't have an art degree, the chance to have a stage.
I like doing public art because it's like a free gallery, an elite-free gallery, where anybody can see the art and it's just there for everybody.
If you could put your artwork on any space in the city, where would that be?
The wall that's connected to Hi-Dive and Sputnik. When I lived above The Walnut Room (Ellsworth and Broadway) with a friend for about a year, and I know this is so voyeuristic, I wouldn't go out on the weekends much, I would just watch people on that bustling corner. There were so many people on that corner and you could watch movie scenes unfold, like people on a date, or "hey there's my friend! What store is she going into?" I loved how much energy was going on on that block, so I feel like that was one of my favorite views of Denver. I could see the mountains, I could see the city and then this entire block of individuals doing things like deciding what kind of ice cream they wanted. There were so many different levels of scale.
I would want my work to be on that wall because it's the perfect size and a lot of people walk by there. As it would be largely hidden from the people driving their cars on Broadway, it would be for the people who are walking by, or taking the bus or riding their bikes. It would also be close to a lot of local businesses I love, like Sweet Action–they are my heart and soul!
Many of the portraits I do don't show faces, so that as many people as possible can look at that image and see themselves in it. I love doing female portraiture.
What's something you think passersby might not notice about your work at first glance?
I actually put a small ode to Denver on the outfit of one of the girls in the Meininger's mural. The pin on her shirt is an ode to one of my favorite comic artists, John Porcelain, who created King-Cat. I like doing small odes to either what I like by other people, or to my friends, or to people who inspire me. I also like putting images like weights that hint at "activeness."
What does the future hold for you in terms of your art?
The murals that I have coming up are indoors. I'm doing a mural for CU Boulder in their tech building, on their film studies floor, so that will be really fun. I'm very into comics, so I'm naturally into storyboarding and that goes well with film. I'm a little choosy about what projects I take on because I feel like anything I put my art art on, I want to believe in that company and feel good about how their values and beliefs match up with mine. I like projects that connect with the community.
I love being a Jane-of-all-trades and as much as I want to say that I'm a printmaker at heart, I think other printers might look at my process and look at my space and say "what are you doing?! Your space is messy! Your hands are dirty!" I think that in every realm, I break too many rules to be considered just one type of artist. I've pissed off a lot of traditional printmakers over the years with my experiments and weird processes.
What does summertime in Denver mean to you?
Summertime in Denver to me, is Sweet Action ice cream, bands playing house shows in garages and everybody celebrating together out in these large groups. Not so much in a party sense, but  in having everyone be out because the weather is nice and everybody's in a good mood.
What do you usually order at a coffee shop?
Man, I just got into coffee and I think it was just from being peer pressured for so long. I was always the "I'll just get an almond steamer, or just some tea" girl. Now that I've started getting into the coffee thing, it's like the new me! I'm very caffeine sensitive and I don't have issues with energy at all. I don't really know if it's working out; it might be too much energy. I might go back to milkshakes.
Go see the art! Here's where to find some of Molly's works: