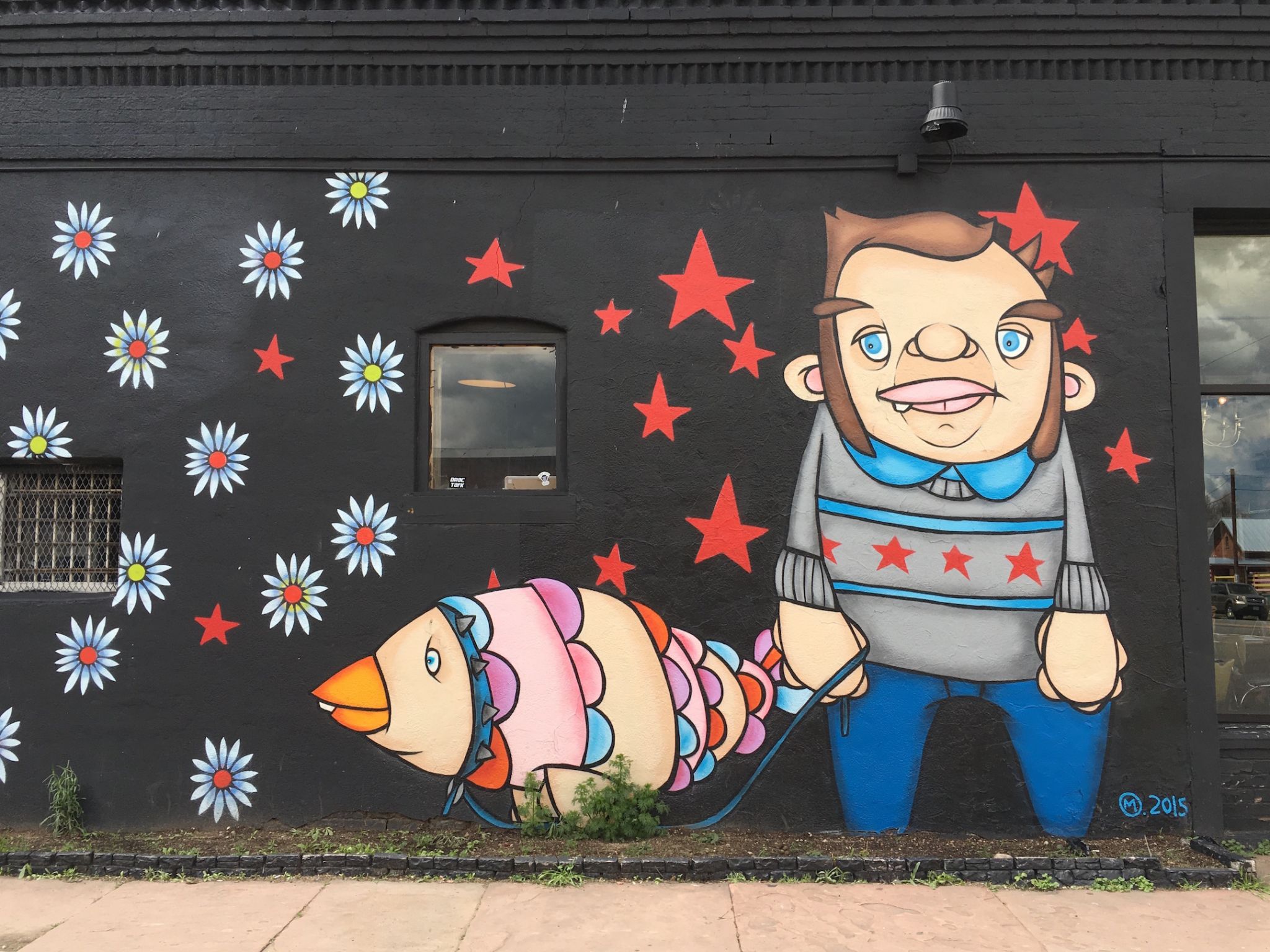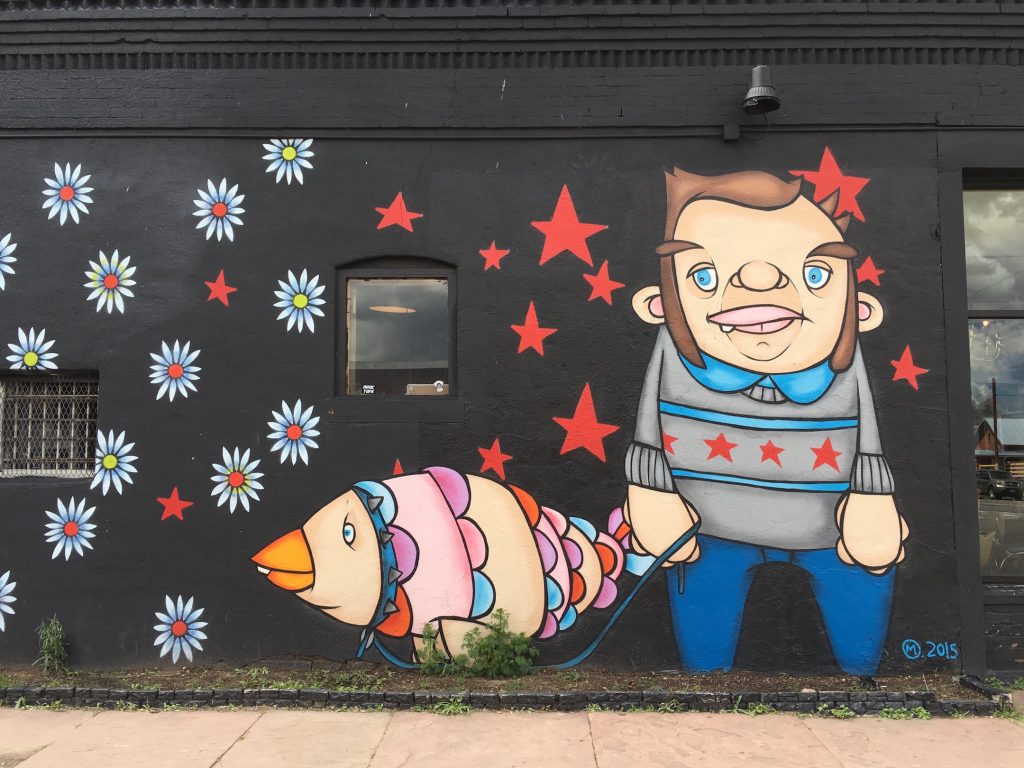 Mike grew up in Lakewood, Colorado and moved to Denver after high school. From 2003 to 2006, he lived in Hawaii where he made his first art sales along Waikiki. Before creating murals, Mike focused on producing work for gallery shows around Denver.
Website: Roane Industries (you can buy chickenfish sticker packs here!)
Tell me about painting your first mural.
I started out in the same style of drawings (as the murals he now makes), like cartoon stuff, but I did gallery shows for a long time. At first it was smaller paintings and then t-shirts. I tattooed for a while. The very first art show I ever had was at Revolutiones, close to Santa Fe on 6th, and that was probably in '97, but the first time I really sold art and started making money was in Waikiki. I sold art and clothes. Since I came back to Denver in 2006, I've shown at like 50 different places around the city, like Indy Ink, Dazzle, galleries, the Denver Art Museum, just a ton of different places.
The first mural I ever painted was with Emit and East who are 2 graffiti guys who have been around Denver for a long time. It was on the former CIA building off of 8th and the process was actually being filmed for a magazine. It was super nerve-wracking because there were people there taking photos for the magazine and filming. Emit and East were the ones who really taught me how to paint. With them, using anything other than spray paint was just not going to happen. So even if I used a piece of tape, they'd be like, "it's not happening. You can't do that." So there was none of that allowed, so I learned to paint more with graffiti values. I try to be true to spray paint art and the history of it. After I did that piece, I just wanted to paint more. The more you do it, the more you want other people to see it. It's almost like a weird addiction; I want to paint more and more. And then bigger and better.
That's the thing I love about art, you always get better and better. It's always continuing and always progressing. It's a never ending challenge; it's something you can do forever.
In general, what's your process for creating a mural?
I'm kind of anti-projector and anti-grid. I just paint it. My murals start with a tiny drawing and then I just sketch it out on the wall and do it. Most of the process is not the planning part as it usually comes together so fast, like, cool, this is what we're going to paint. For example, I painted a wall that was 20′ by 100′ in Miami and didn't know what I was going to paint until the day I started painting. I had like 20 sketches and an idea, and the person I was painting with had a secret idea about what he wanted to paint that he wouldn't tell me about until we got there, so that day it was like, cool, this is what we're going to do, and then we painted it. To me, it has more feeling if I can just paint it and do it.
The characters are all in my head at this point and I can just change them to fit certain areas and ideas. I've always been able to just look at a drawing and then redraw it in 20 minutes as a 12′ piece. With outdoor stuff, I just sketch it loosely with a light color of spray paint and then go back over it with a darker color and then fill in. It's still a sketch process, but I'll start with spray paint. It gives me more freedom. I've been using spray paint for about 10 years, but I've been doing these drawings for almost 25 years.
I feel like that's my whole thing now, trying to do as big as possible. If I could do 6-story buildings, that would happen. I think that it's seeing it larger than life that makes it even more fun. Painting something so big that everyone gets to see makes it more approachable, and it's something that everyone can enjoy. It's not just a gallery owner, or that one person who bought a piece who gets to enjoy it. If it's something that's public and it's that big, then everyone gets to enjoy it. I like that idea of that.
What do you think is the role of art in the public space?
I like how public art inspires people. It brings a lot to daily life and makes people happy. It's a way that people can experience something else. Art is super important and not everyone can go to a museum or gallery to see it, so if you can go to the street and see a public mural, it's like, wow, maybe I could do this. Growing up, people tell you that you can't make money off of cartoons and that you can't do this for a living. But then you see these murals and start to see how it can happen and it opens peoples' minds up to what they could do next. I think this helps with creativity.
I think seeing art larger than life makes it even more fun and more approachable.
Who has been the biggest influence on you?
Art-wise, I would have to say Scribe out of Kansas City, Os Gêmeos out of Brazil, Barry McGee, and a lot of graffiti people, like Emit and East. Also artists like Jeff Soto, David Cho, Jaime Molina, Scot Lefavor, Gamma, oh man, there are just so many!
My daughter is a huge influence on me, huge. She is my absolute favorite person to paint for. Anything I can paint and make for her, and then seeing her like it means the world. The whole reason I painted a giraffe (on the Emma and Grace building), was because she loves giraffes. She had gone and fed the giraffes the week before, so I had to paint a giraffe. So that was was it. I didn't know what I was going to paint, but she had been to the zoo and seen the giraffes, so I painted a giraffe. There's not usually huge deeper meaning to my work; it was just that I wanted to make her happy, so I painted a giraffe.
If you could put your artwork on any space in the city, where would that be?
All over. Everywhere. There's a huge wall at the Chrome Bag building downtown and I really like the size and shape. There's a spot on Broadway, right before 16th, that they just painted a dark gray and it's like 8-stories tall, and I have an idea of what I would paint on that if I could possibly paint there. There's a Chinese dancing lion eating an ice cream cone that I did that I would love to paint 50′ tall, just because it's ridiculous. I'm working towards being able to do those kinds of projects, but we'll see. It would be fun.
I'd rather just paint it and see what happens and then change it to fit that exact area.
What's something you think passersby might not notice about your work at first glance?
There are definitely hidden private jokes in my work because when you paint with friends, you come up with weird voices or names of characters, or what they're doing at the time. It's all just made up on the spot.
Why the "chickenfish?"
I was honestly just trying to do something different to make my daughter laugh. We were just talking and somehow it came up how everything tastes like chicken and that some fish tastes like chicken; it might have even been something related to talking about the whole Jessica Simpson, Chicken of the Sea, thing. And then I was like, let's do a chickenfish! It's just fun to do because it's so ridiculous. It just made me laugh. Most things I draw for simple reasons, like it makes me laugh.
What does the future hold for you in terms of your art?
This summer I'll be painting car for Toyota at the Cherry Creek Arts Festival on July 4th weekend. I'm doing a piece for New Amsterdam Vodka in August at 31st and Larimer, right next to Bar Fausto. It will be the whole building. I'm sure I'll do Colorado Crush again this summer. And then there's a bunch of things that aren't finalized.
I have a group show coming up in New York at My Plastic Heart for "Robots Will Kill," their 15th anniversary show. I'm pretty excited about that. I'm also doing a group show in Denver called "The Gutter Kids" that's like a Garbage Pail Kids rip-off show. That's at the end of the summer. I'll be part of a show at the end of September at Sally Centigrade. I'm trying to do smaller group shows versus solo shows, due to a lack of time. I love doing gallery shows.
I have a toy coming out in the fall. This has been in the works for about a year and half. It's a vinyl toy that a friend of mine who makes toys is creating. He's going to release it at Designer Con in the fall, so I'll be out there doing a signing.
What does summertime in Denver mean to you?
The weather and cool summer nights, riding bikes, getting ice cream, going to the zoo, Jazz in the Park, just being outside and seeing more people out painting in the summer.
 What do you usually order at a coffee shop?
It's usually chai or iced chai. Maybe a simple coffee.
Go see the art! Here's where to find some of Mike's works: