Take a play break after shopping in Cherry Creek.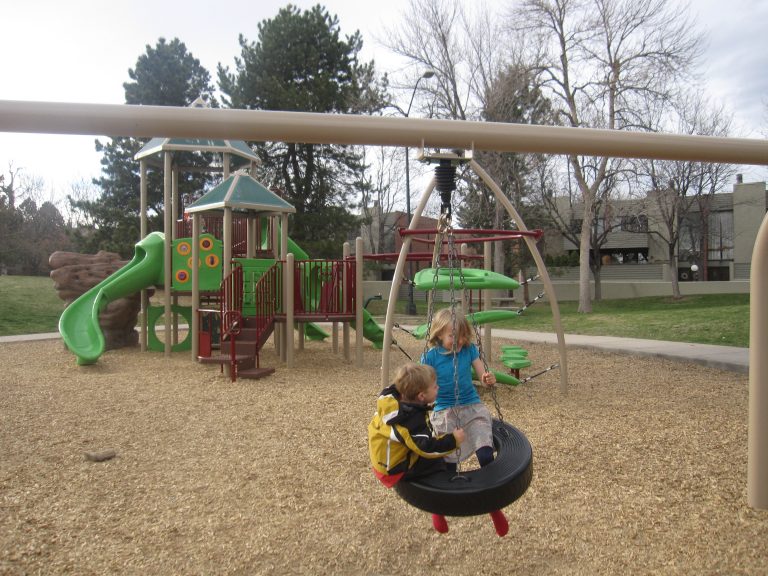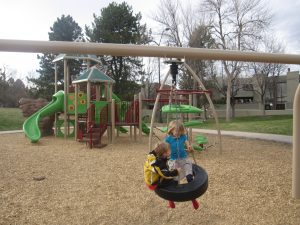 James N. Manley Park in Cherry Creek North is a small neighborhood park that has enjoyed a revival in popularity due to the fantastic new playground that was installed in the summer of 2012. This park is a great place for a post-shopping romp.
Fast Facts
Location: 
400 Josephine St, Denver, CO 80206
Park Features: Benches, drinking fountain, picnic tables, playground, and bike/pedestrian path.
This Park is Best For: Having a picnic, throwing a ball and playing on the playground
Open Space Rating: 4 – Limited open space, but if you need a place to play a game of soccer or throw a long-range frisbee, head to the large grassy field of Bromwell Elementary just across the street.
Playground features: Climbing feature, tire swing, several slides, bouncy toys, monkey bars, spinning element, wood chips as play surface.
Playground is Best For Ages: Preschool – elementary
Playground Kid Rating: 8 – Lots of fun due to the unique "rock outcropping" climbing feature and tire swing.
Bathroom Options: There are no bathrooms at the park. Nearby options include local Cherry Creek shops or the public library on 3rd and Milwaukee.
Parent Tip: Be careful where you park in Cherry Creek North as some areas are designated "Residents Only" and require a special permit.
Denver Parks and Rec. Map: ParkArt_Manley (James N) Park

Activities for this Destination:
Learn More About This Park's Namesake: Bromwell School History Page
Frozen Yogurt Treat – Yogurt Guru on 3rd between Columbine and Clayton
Trip to the Ross Cherry Creek Library – 305 Milwaukee St (5 blocks away)