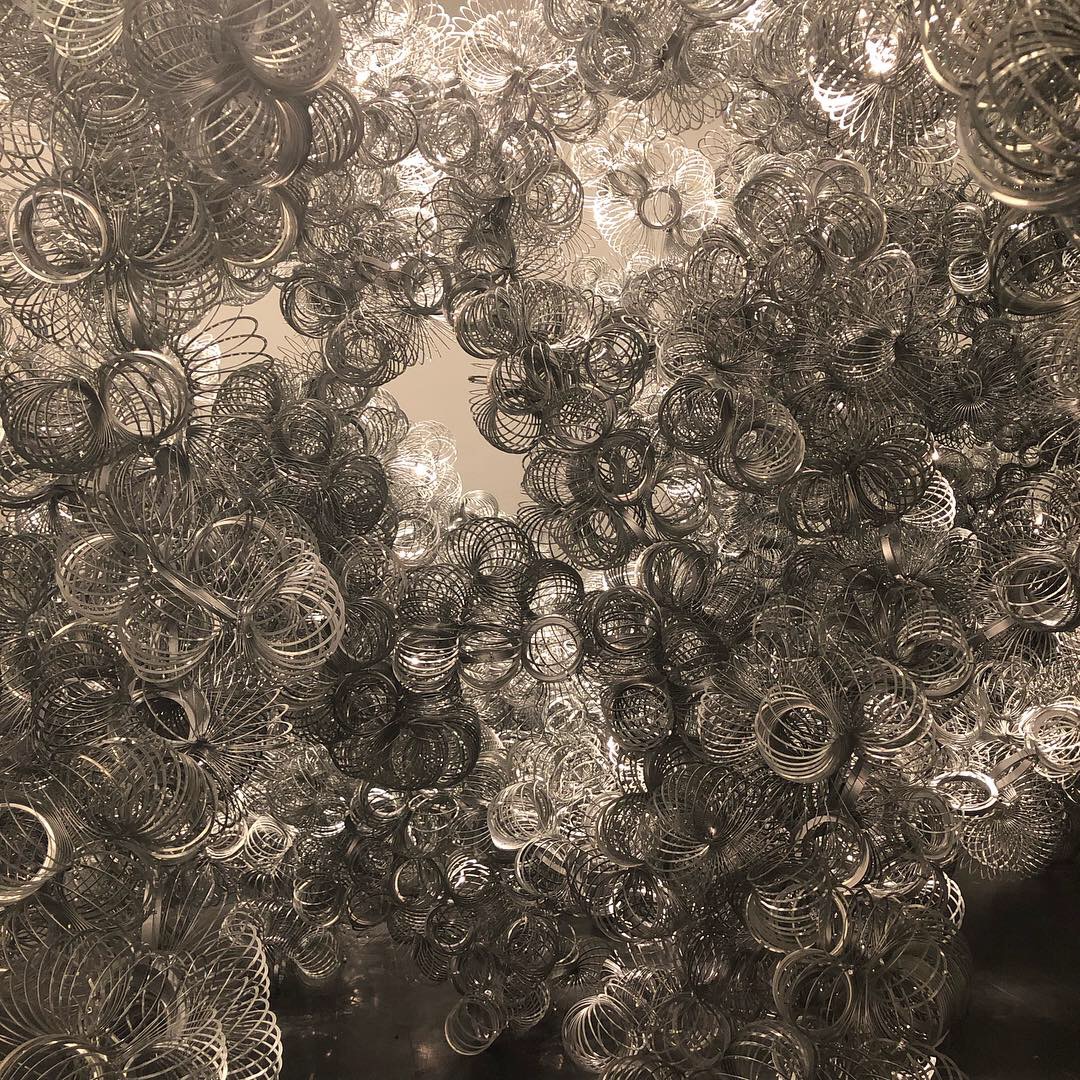 Artist Tara Donovan explores materials in a myriad of ways and the results are completely fascinating and engrossing. Her exhibition has taken over MCA Denver and includes works incorporating slinkies, plastic index cards, straws, tar paper, folded Mylar and more. On view until Sunday, January 27th. See it!
More About the Exhibition:
Tara Donovan: Fieldwork celebrates American artist Tara Donovan's distinct and varied practice, which includes sculpture, drawings, works on paper, and site-responsive installations. Often known for her transformation of neutral or mundane materials into elaborate, mind-bending objects that evoke the natural world or other organic material, Donovan's work in many ways is about work. She manipulates a material over and over again, to see what it is capable of becoming, where it might lead, and how it will migrate from an object of practical use to something surreal or sublime. In some instances, she reworks a material into both two-dimensional and three-dimensional forms, engaging with space and light in nuanced and unexpected ways.
This exhibition, occupying MCA Denver's entire building, will be the first time that Donovan's wall-based and freestanding objects will be installed together, in order to understand fully how the artist re-imagines everyday materials like plastic straws, index cards, rubber bands, Slinkys, and Mylar. A remix of older and recent works will open up new areas of dialogue within her practice and enable viewers to make connections across time and subject matter. The exhibition is about how, through labor (especially repetitive action), order and structure can give way to the unpredictable, where reason yields to faith, and the mundane cedes to the marvelous—truly employing the creative act to seduce visually and, in doing so, override what we know to be factual.
Source: https://mcadenver.org/exhibitions/tara-donovan
Planning Your Visit:
MCA Hours:
MON: CLOSED
TUES: NOON–7PM
WED: NOON–7PM
THURS: NOON–5PM  (12/6 museum closing early)
FRI: NOON–9PM
SAT: 10AM–5PM
SUN: 10AM–5PM
Tickets:
General Admission: FREE for members
Adult: $8 ($5 after 5PM Tues-Friday)
College Student (w/ ID), Senior 65+, Military: $5
Teen (13–18): ALWAYS FREE*
Children (7–12): ALWAYS FREE*
Under 6: FREE
Location:
1485 Delgany St, Denver, CO
Pro Tip: Admission to the MCA is only 1 penny on the first Saturday of each month!