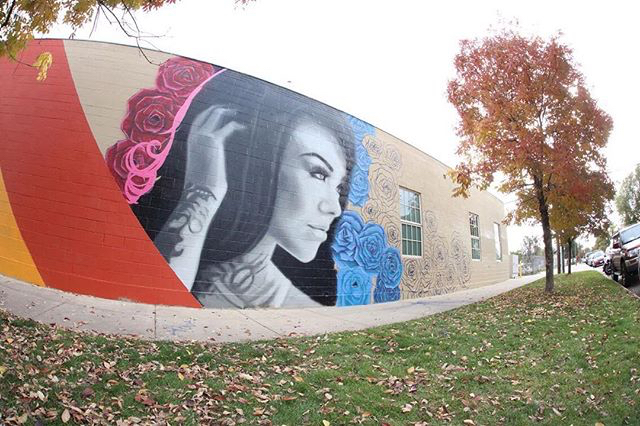 Thomas Evans – @detour303
Growing up in a military family, Thomas moved around a lot, but it was always his art that allowed him to connect to each new community. Eventually landing in Colorado, Thomas graduated from the University of Colorado at Denver with an MBA in marketing, but now works full time as an artist. He has a studio at The Temple at 24th and Larimer.
Website: http://iamdetour.com
Tell me about painting your first mural.
My first mural was on a container in Sustainability Park through Redline. That got torn down a year later, and it wasn't until later when I did another mural at Colorado Crush. That was a year ago and I was trying to figure out my rose theme with the multicolored portraits that I do. It was a process of trying to do acrylics on the wall, which didn't really work, and then trying to do house paint on the wall and that didn't really work, and so I finally had to buckle down and learn how to use some spray paint. My friend, Tens, who does a lot of pieces around town, helped me out by showing me some techniques and helped me do some of the roses. From there, I came back to my studio and I have this little area outside the window where I could step out and practice. So I'd just put up a board and step out and practice different techniques and different colors. After that I finally went to the wall and put up that piece for Colorado Crush.
From there, it kind of snowballed into me doing a couple of murals around town for Likeminded on the Volunteers of America wall, which is like half a block long with Patrick McGregor and that's at 26th and Larimer. It's of roses and flowers with a nice portrait.
And then some people saw that and invited me to Massif Studios on South Broadway. They wanted me to do their wall inside because it was all white and they do a lot of high fashion photography. It was really blank, really bare, so they wanted me to add some color. I want to do more this summer in terms of getting walls to paint on. I definitely want to make sure I outdo myself the next time. That's my goal, just to get better and better.
It's a good feeling to have other artists around you who are really killing it because that inspires you to go out and do your best.
In general, what's your process for creating a mural?
I start with a sketch and do a couple squares to get the main features down and the proportions because correcting that stuff, I found out, is a pain. So right now it's more of the grid method, but the flowers are all freehand. Getting to that level where I'm able to do what Gamma does, and being able to measure the wall just by looking at it…. That just takes practice and practice and practice. That's what I want to do this summer, is practice as much as I can and experiment on the wall to where I feel more confident going to any wall, with any texture, and making sure I can put a good piece on there.
What do you think is the role of art in the public space?
It definitely changes an entire community. Without the art, Larimer is something totally different. There wouldn't be that creative vibe that you get just walking around. You really get to see what the heart and soul of somebody is on a wall and it helps you be more creative. That's why I like seeing a lot of public art because it helps the community extend outside themselves. Like when I go down Larimer, and on the side of that building there's that mural that changes as you go ("Larimer Boy" and "Larimer Girl" by Jeremy Burns)
different directions, just seeing how the artist executed that mural and that shape of a wall, kind of got me inspired to think about the shape of what I'm using or how I'm putting a mural on and maybe what I could do differently. Maybe it's not all about what you put on the wall, but how you put something on the wall, so perspective. Seeing someone else's expression opens you up to other perspectives.
Who has been the biggest influence on you?
Artist-wise, I'd say Justin Bua (New York artist), David Garibaldi, of course there's Kehinde Wiley from out in New York, he's one of my favorites. Locally, I will always love, like when I first came here, the Signtologist, he did a lot of stuff on street signs. And then of course, Joseph Martinez and Pedro (Barrios) and Jaime (Molina), Gamma, that dude just always surprises me, Caleb Hahne, Mario Zoots, but I also get inspired outside of just the art-art. I always like to collaborate with Felix Fast Forward who's a local artist because the way he thinks is just totally different when it comes to music and that helps me, in my form of art, to think outside the box. I always make sure to take inspiration outside of just art.
A lot of the people in my paintings are just people I'm inspired by.
If you could put your artwork on any space in the city, where would that be?
Any wall downtown is really cool. I'm always stuck in traffic or something and you do nothing but look around at the walls and sometimes you'll see some type of creative advertisement, like those funny Chick-fil-a ones. There's this wall, and Patrick and I always talked about it, it's at Auraria Parkway and Speer. There's a building near the Pepsi center and there's this empty space that's really high up. Patrick McGregor, who does these colossal painted advertisements of the sides of buildings, is always looking at these tall buildings like, "I could paint on that." And he can, he can literally paint on an entire building by himself. I would love to get that wall and work with him.
What's something you think passersby might not notice about your work at first glance?
The reason I started doing more roses now is that I was at a Solution event, which is at 27th and Larimer, and basically the whole neighborhood was there hanging out, and there was a girl there, Tisa. She just had this really beautiful look, even though all the other girls were really beautiful too, she was just so different than anyone there, that I was just like "I have to paint you." And then, I had to figure out a way to communicate that on a mural with the abstract portraits that I do, so that's why I do a bed of roses on the background and have at least one blue rose signifying that unique beauty.
What does the future hold for you in terms of your art?
On June 30th, is my show at Redline called They Still Live, which is my photography work for the past year and my partner Tia's photography work as well. It's all about pairing African Americans with African masks from the Paul Hamilton collection and doing DNA tests on all the models who participated and showing that linkage between where the mask was from in terms of the tribe that made it and the heritage of the model.
And then in August, I'll have a show at Helikon Gallery with my current work and many of the pieces with the roses and an interactive piece. I'm teaming up with my friends Tanya and Felix Fast Forward, local musicians, to do a painting of them which will also include the interactive paint that I use so that the painting turns into an instrument and they're able to play on top of that painting of themselves. They're going to compose some music on top of the actual painting.
For Colorado Crush, it's till up in the air about what wall I'm going to get, but I'll definitely be back to paint something. In the meantime, I'll be here and there practicing on different walls. I think I'm going to do another mural at Massif Studios; people really liked my work there.
I do my live painting at Ophelia's on the evenings called Art and Soul. I also do live painting at Metal Art Kitchen, usually every other Friday. When I finish a piece of art there, it gets hung up on the wall so you can see it the next time you come in. I always try to make sure I keep a really fresh collection there; it's always my newest pieces.
People like to see things created live and it's exciting for me to see people's reactions when they first come in and the hair's not done and the eyes aren't in and then when they leave it's almost finished. With the abstract stuff, it's really cool to see people like, "oh why did he put the blue there?! He's putting in the wrong color!" I've gotten that a few times.
What does summertime in Denver mean to you?
Just being outside all the time and all the events like Colorado Crush, Cherry creek Arts Festival, Jazz Arts Fest, Larimer Block Party, just different festivals happening around town. Just having an opportunity to get out there more and more, plus all the days of sunshine we have. Summertime is that time to get out of the studio and be out with the public and painting outside. I paint in front of Metal Art Kitchen, in front of Solution and then on walls making new murals.
 What do you usually order at a coffee shop?
I don't drink alcohol, coffee or iced tea. I like handmade juice. There's this watermelon juice that they sell at the bakery downstairs (Temple Bakery) which is like the best thing I've ever had. Anything really healthy, I really like. That, and Subway cookies. There's just so gooey when they come out of the oven! The Subway on Park Ave. knows me because I'll come in and just get three cookies. But other than that I try to just eat healthy foods.
Go see the art! Here's where to find Thomas' work: