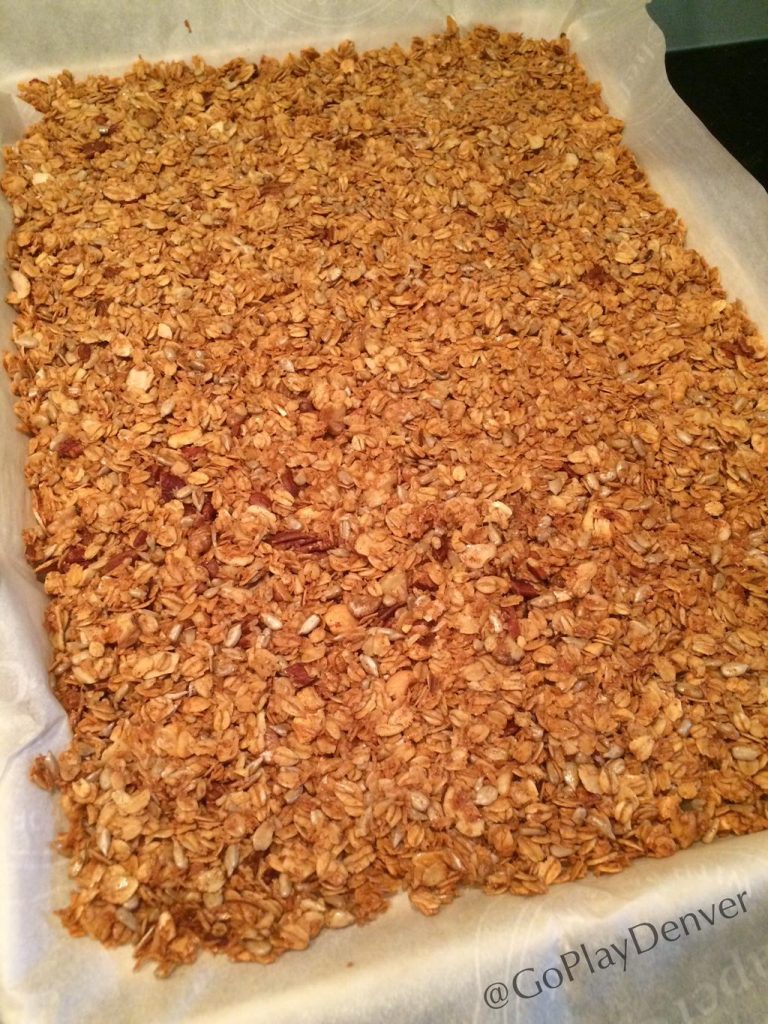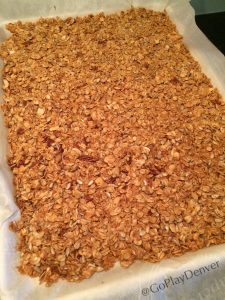 Fuel your adventures. Homemade granola is surprisingly easy to prepare, fun to customize and quite delicious. After trying about 6 recipes from various cookbooks and online sources, we've arrived at our own recipe. Give it a try and let us know what you think!
This granola is tasty in a bowl with milk, right out of the jar, or on top of your favorite yogurt.
Ingredients:
3 1/2 cups of old-fashioned rolled oats
1 cup unsweetened shredded coconut
1 cup sunflower seeds
1 cup sliced almonds
1 cup chopped raw cashews
1/2 cup chopped pecans
1/2 cup walnut pieces
1/2 teaspoon salt
2 teaspoons cinnamon
1/2 teaspoon ground nutmeg
1 teaspoon ground ginger (the powder in the spice aisle, not fresh)
8 tablespoons (1 stick) butter
1/2 cup honey
2 teaspoons vanilla extract
Method:
Preheat your oven to 250 degrees. Line a 13″ x 18″ rimmed baking sheet with a sheet of parchment paper and set it aside.
In a large bowl, combine the oats, coconut, sunflower seeds, nuts, salt and spices.
In a small saucepan, melt the butter over low heat and then add the honey and vanilla extract. Stir to combine.
Pour the butter sauce over the dry ingredients and mix well to ensure everything is evenly coated.
Pour the granola mixture onto the prepared baking sheet and press it out evenly into the pan using a potato masher, spatula or the bottom of a drinking glass. Pressing the granola will help it cook evenly and create nice clumps.
Bake the granola in the oven for 90 minutes or until lightly golden brown. There is no need to mix the granola as it cooks.
After allowing the granola to cool completely, break it into chunks and store it for up to 2 weeks in an airtight container.
Enjoy!