The Stephen H. Hart Library & Research Center exists to help researchers learn more about Colorado history, and to share the vast collections of the History Colorado museum with the world. They collect archival materials (think letters, diaries, books, maps, newspapers), photographs (1 million+), and artifacts that document the history of the Centennial state. The Library's artifact collection spans everything from tiny beads to trains, and includes historic clothing, toys, weaponry, kitchen gadgets, furniture, equipment from the mining, ranching, and railroad industries, Native American artifacts, and a whole lot more. Particularly unique is that they will arrange for visitors to look at museum artifacts in the library. You can also look at a portion of the collection online here.
We like to think that we're a friendly, fun-loving group. We're all firmly committed to serving the people of our state, and beyond, who are interested in Colorado history. We love Colorado, our city of Denver, and all of the neighborhoods it contains.

– Laura Ruttum Senturia, Library Director
The collection, as a whole, helps tell the stories of the many people who have lived here. The librarians are there to help you find the information you need, to educate, and to put collection items right into your hands. The Library is FREE and open to the public, Wednesdays through Saturdays, from 10 to 2. No appointment necessary; drop-ins are welcome!
---
Top 5 Reasons To Love the Stephen H. Hart Library & Research Center:
Friendly, smart and helpful librarians. Not sure exactly how to "research things?" No problem. The librarians here are happy to help you get started with a project whether you just want to know who used to live in your house or you're curious to see how saddles were made in the 1800s (by actually getting to look at a real one!). If you can't make it in person, the librarians will help you via phone or email. Currently 60% of researchers using the library email or call for assistance, and the librarians will do up to 30 minutes of research for free, or up to 2 hours for a low fee.
Interesting images to see, to print, to give or to keep. See cool stuff! Stop in at the Library and a librarian will be happy to bring out a box of historical images–and a pair of white cotton gloves–for you to peruse. Go on a journey through time and across the state; it's really fun. If you can't make it in, you can browse some of the collection online and also via History Colorado's social media feeds. If you like something you see, you can order prints to keep or give.
The Historical Craft Society. The library hosts monthly craft classes that weave historical images, recipes or techniques into a fun craft that adults (and older kids/teens) can make and take home each month. Upcoming classes include: Warp and Weft: Weaving Inspired by Josephine Evans's Gilded Era Works (1/21) and Baby Doe Tabor Cupcake Decorating (2/11).
Tiny Library Concerts. One of Denver's most intimate spaces for live music is actually the Stephen H. Hart Library & Research Center. With this monthly evening concert series, you can enjoy great local music in a cozy setting with adult beverages. Tickets are only $10 for members and $12 for others. Upcoming shows include: The Still Tide (1/24), Gabrielle Louise with Jacob Russo (2/14) and Kayla Marque and Kid Astronaut (3/7).
Custom classes and tours. For a small fee, the Library will tailor a program and/or behind the scenes collections tour specifically for your special group, be it for a family reunion, alumni chapter get-together, genealogy or hobbyist group meeting. They also offer classes and tours that are open to the public so you can hone your research skills or learn how to preserve your own historical items.


---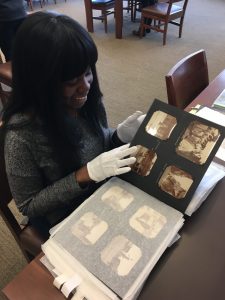 You may be wondering what the library offers that might be of interest to you. The Stephen H. Hart Library & Research Center supports research and curiosity about family history, general Colorado history (people, places, events), the history of houses and other buildings, and neighborhood history. On a research visit with them, you can learn about who lived in your house 100 years ago, the style of clothes they wore, and what they were reading in their morning newspapers. You can find photos of buildings that no longer exist, audio and film recordings of important and just-regular people from your community, and the original names of the streets in downtown Denver. You can learn what it felt like to come to Colorado from elsewhere in the 1860s, or the 1960s, and you can learn what the folks who were already here thought about the newcomers.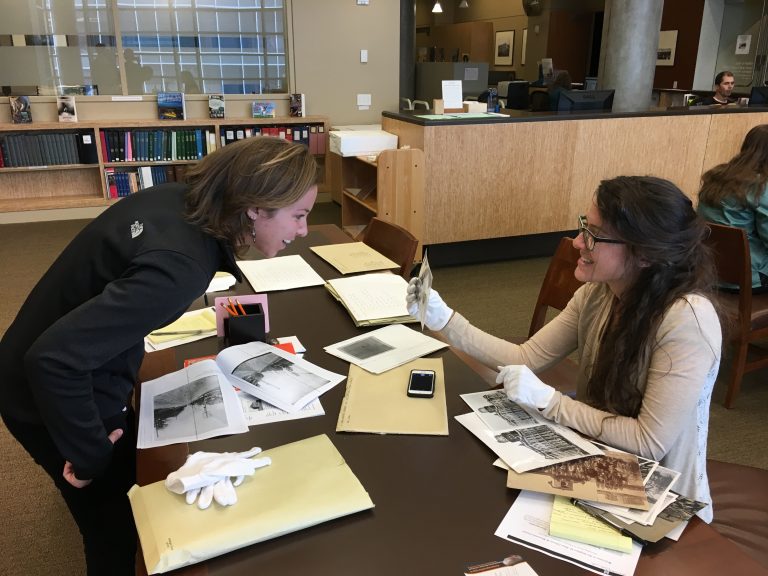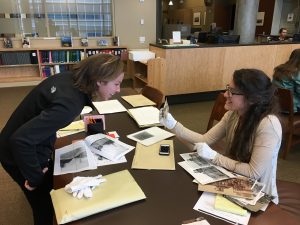 The types of people you'll see at the Library include everyone from school kids working on National History Day projects, to retirees working on their family trees. We also see a number of authors, artists, professors, journalists, professionals, and businesspeople. And we get a fair number of people who come in "just to see something cool."
In 2015, the staff at the Stephen H. Hart Library & Research Center answered 5,753 reference questions, all from curious people who wanted to know more about Colorado history. That's between 15 and 22 questions a day, depending on whether you count weekends and holidays! So, what can they help you discover?
Library Address: History Colorado Center, 1200 Broadway, 2nd floor
Library Hours: Wednesday – Saturdays, 10a – 2p; closed whenever History Colorado is closed.
Website: http://www.historycolorado.org/researchers/stephen-h-hart-library-and-research-center