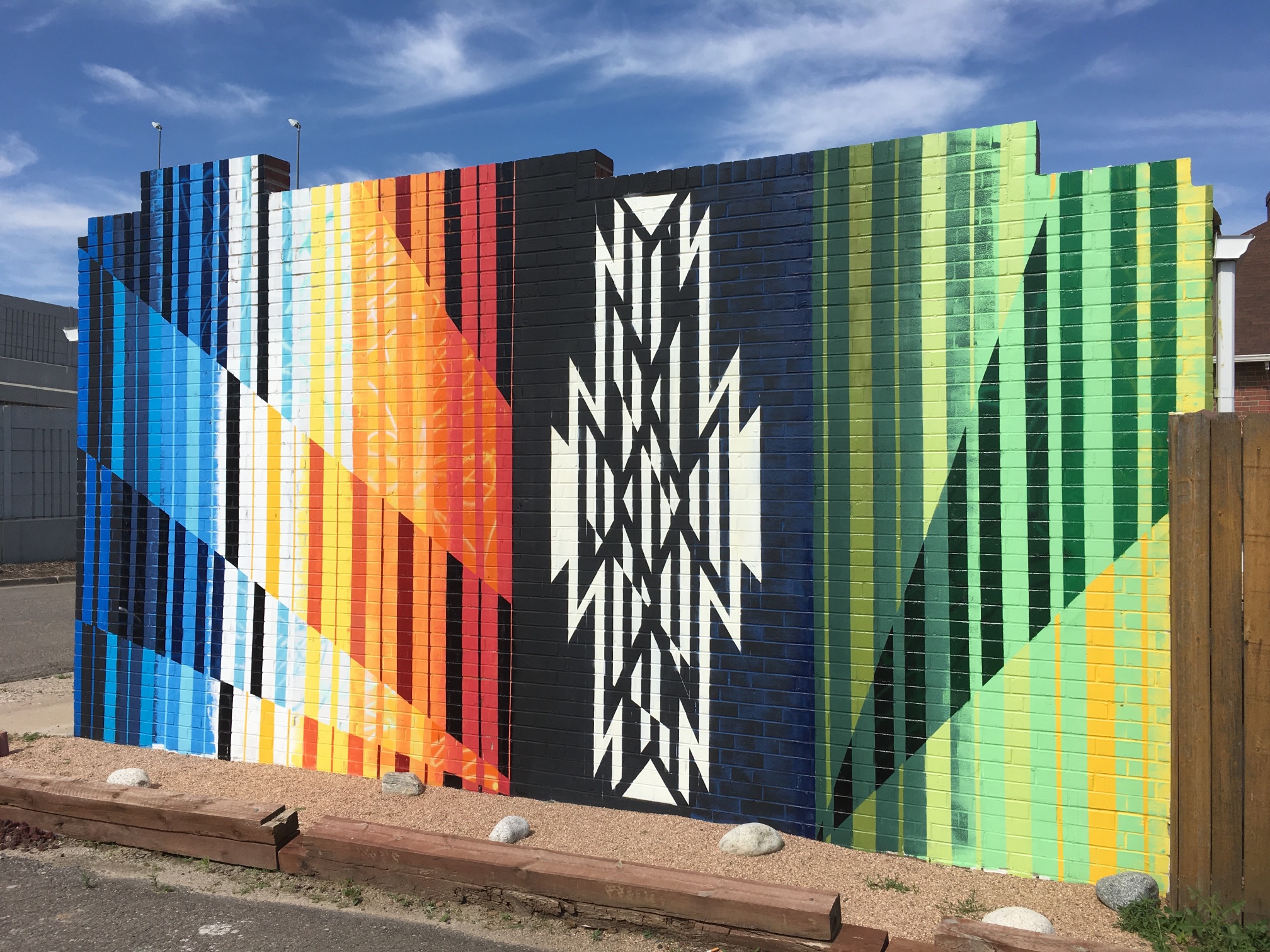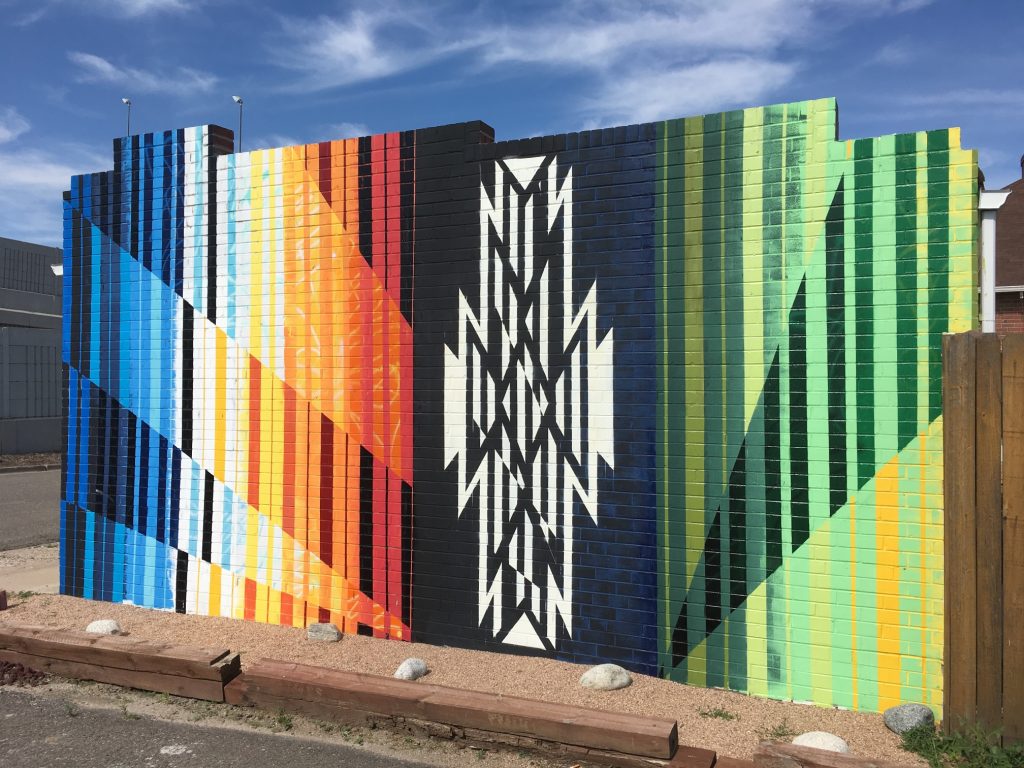 Anthony Garcia Sr. – @birdseedanthony
Anthony grew up in the Globeville neighborhood of Denver near 50th and Broadway. As a teen he did graffiti and feels that hanging out with other graffiti artists all over the city eventually lead to his evolution into an artist who now does studio work and murals. He also credits his experiences with the Art Street program for getting him into public art. Anthony is the founder and director of Birdseed Collective, a nonprofit organization that supports young artists and addresses community needs through its food program.
Website: http://birdseedcollective.com
Facebook: https://www.facebook.com/birdseedcollective/
Tell me about painting your first mural.
When I first started doing murals, it was graffiti. In the graffiti world, you kind of have to start by tagging on the streets and then after a while, you kind of learn to do bubble letters and doing that bigger stuff. You might hit a train after that, you know, kind of sneaking under bridges, and then you'll see the guys you look up to are starting to hit these big walls and you're like, hey, can I get in on that? And they're like, yeah, do you know how to paint characters? And I didn't really know how to paint graffiti characters, but I'll paint whatever, so I was like, yeah, let's do it! So then, it's putting in all this work painting characters for people, and then they're like, okay now you can do your name now too. And after that, it started to be that I would get my own walls, or we would get a wall together, and just start painting big productions. I feel like those were our first murals. A lot of them were in this Commerce City, RiNo area just because the railroad tracks are right here and the bridges and everything.
Our first legit mural was probably our toughest mural because we had never done this before. So we were talking to the business owner like, hey can we do something? There's the grant that's coming out, but we want to make sure it's okay with you. And they're like, the only way I'm going to let you paint my building is if you paint this exact picture right here. And you do this exactly this way. And I'm like, uh, alright, let's do it. If the city's going to pay me to do this, alright. Let's make this happen.
So we ended up doing that and the owner was unhappy with it. They were like, why is it so like blurred out? I was like, well, you gave me a picture that was like that big and I'm trying to make it big and blown up as much as possible, so you've got to give me a little bit of credit. Stand back a bit; it looks exactly like your picture. And so it kind of put a bad taste in our mouth after that, but we still wanted to do something big, something greater, so we ended up working with the rec center and in order to do that, we had to work with kids. So, that's what started us working with kids.
In general, what's your process for creating a mural?
We start with a basic idea of what we want to do, and it can change as we go along, but it depends on who's buying and what the piece is. This piece (mural at I-70 and Washington; in photo on right) started with like this striped, street art layered with colors and splatters and then it slowly evolved into this spectrum. And then that reminded me of the serape, the Native American blanket, so after that, I mainly focused on the serape and trying to turn that into an abstract piece with people still kind of knowing what it is. I never wanted to pigeon hole myself into this category of a Hispanic artist. I kind of did this to myself on this, but I feel like it still represents me with the colors and the way that I do things.
When I'm making a mural, I usually use outdoor house paint, or sometimes spray paint because it's faster. For this one (the mural at I-70 and Washington), I did the colors first and then taped everything off. Also, what's crazy about my style, is that because I do this contractor work on the side, this guy gave me this whole box of masking tape, and I was like what am I going to do with all this? So that's when I started doing the stripes. I used up all the tape, but I really like that style, so I've kept on doing it. A lot of times in graffiti, if you use any kind of tool, like a specific cap, graffiti writers don't necessarily respect that, like if you use a piece of cardboard to help you make a straight line, or if you have to tape stuff off. But for me, it's a lot easier and it looks a lot nicer if you tape it.
What do you think is the role of art in the public space?
I have mixed emotions about public art. At first when I was doing it, I was doing it for the art and for the neighborhood until I started to realize that this is the first step toward gentrification in a lot of these neighborhoods. What they want to do is get this art on all these abandoned buildings and then somebody buys that abandoned building and then they turn it into something else and then the taxes go up. So, I'm not trying to kick anyone's grandma out of their house or anything, I'm just trying to do art. I'm glad I can pick and choose more jobs now, but still, I notice that most of the spots for murals are in these kinds of neighborhoods. If you go over to the South High School neighborhood, you don't see a lot of murals over there, they have to come to these neighborhoods because there's more available space. I feel like we need to spread it out throughout Denver and let everyone have a piece of it in order for it to be a real thing. Right now it's just like the "street art, hip, let's move to this neighborhood" kind of thing. I love this neighborhood (Globeville) and I'll do whatever it takes for this neighborhood, but I don't want it to be that because we started doing art that this started happening.
Who has been the biggest influence on you?
The Art Street program influenced me in that it made me see that I was able to do something like this. That's what first got me going. I also used to be in a youth group over here at the Globeville Center that was called La Raza Youth Group and the teacher, his name was Anthony Vigil, taught us a lot about how to be empowered, just by yourself. It wasn't like a brown pride thing, but it was like, be happy with your community and be involved with your neighborhood. We all represent each other and that always kept repeating in the back of my head. So when I see people messing around and all these things happening, I mean this is the 'hood, there are drugs and people die and people are in jail. And it's like, either you become something or else you're going to end up being nothing. I feel like I represent these people from here, especially being from the streets. I don't find myself to be a street artist, but I'm an artist from the street. I always try to work harder and try to make sure that even though I'm from this area, and this neighborhood has this certain vibe about it, this is not me. I was always an individual. And that's what I'm really about, so no matter what, I'll continue to do my thing. I always thought of Anthony (Vigil) from that because he really recognized me as an artist, as an individual artist, not a graffiti artist, but as an artist. He always had such high standards for us.
I feel like I'm right there in the middle. Like I'm too 'hood to be like a real artist, but I'm too much like an artist to be like a 'hood kid.
Jaime Molina is a big influence on me to because he was the first person that I met that has painted outside the country, that's not from Denver, that I've be able to work with. We worked on a mural for like two weeks straight, just sitting next to each other every day, and really everybody that I work with I learn from, and that's why I like to surround myself with all these people. With all these other guys, it's like, let me learn from you, let me find out where you're coming from and what's in your mind. Meeting different artists has helped me learn a lot. I always feel like I have to create my own lane and Jaime made me feel like it was okay to do that. I really appreciate him for that.
Jolt is a big deal for me too because he lived in this neighborhood for a little while. He was 17-18 when he moved over here and I was 13,14,15 or whatever. He was a big deal graffiti writer and he became a real artist. And he was always a hustler; he would make things happen and he helped me. He was one of the first artists who would let me come hang out with him. Once we grew up, we went our separate ways, but we came back together and he's proud to see where I'm at and he's willing to work with me if I need any help. It's nice to have those people at the end of the day, who have your back if it comes down to it.
If you could put your artwork on any space in the city, where would that be?
I'm kind of one of those 16th Street Mall kids, and there's a nice wall there near 16th and Market. It was originally a black wall, but now it's kind of grey. That's certainly something that comes to mind.
I might also want to work on some of the street art that's already around. There's this wall right here under Washington that looks like somebody half-assed a mosaic mural on it. It's so ugly and it's my neighborhood. I do all this art in the neighborhood and then we've got this ugly piece right here. You know what? I think this is the one I want to paint, right here. I'll elaborate on their design, but that is so ugly it drives me crazy. Maybe it's because I pass by it so much.
What's something you think passersby might not notice about your work at first glance?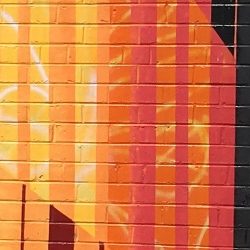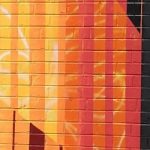 Where it looks like there's graffiti in places (on the mural at I-70 and Washington), I wrote all of my friends' names that were in my crew together. Everything says something. There's my kids' names, my wife's name, all my friends' names. That's just in this specific mural, not in all of my murals.
What does the future hold for you in terms of your art?
This big thing right now is the new Birdseed Collective gallery on 41st and Tennyson. It's called Alto Gallery and for a long time we were just a traveling collective and would rent spaces from people, curate shows at certain places or do pop ups one night at concerts. And now that we have our own art gallery, its like a totally different beast and we're trying to learn how to be a business owner and actually work with artists. It's different than just doing a pop up and putting the artwork up; now we're the people in charge, so getting to learn the neighborhood and the rules of being a business owner that's all new to us.
We're doing our food program which is constantly growing. It's mainly in this neighborhood (Globeville) right now, but we're spreading out to the West Villa Park neighborhood which is around 10th and Federal. We're also doing summertime lunches over here at Argo Park which is at 47th and Sherman, where we give away free food every week. That's always growing and evolving; we kind of just go with the flow and see what happens. It (Birdseed Collective) started off as just trying to do murals around the city and now it's us doing food programs and now having our own art gallery and doing huge murals around the city.
We plant the seed, and it grows a flower, and then it flies away. That's what Birdseed means. We're trying to help up-and-coming artists succeed and at the end of the day, we'll do whatever it takes to help them.
What does summertime in Denver mean to you?
Summertime means mural time for us because we have all these things building up and then when we actually end up getting money for stuff, it's right before winter, so we wait for these times when we can just go out and grind. We're doing Zuni Park, painting all the sidewalks over there. We're doing 52nd and Federal, all the bus benches over there, and then there's Knox and 10th… we've got all kinds of stuff going on. So, it's just really time to work. People don't really realize, they're like, oh you're just painting murals. But it's work. Think about painting the outside of your house all day, every day. Basically we're doing that, but we're also trying to make it look like something at the end of the day. It's a lot of long days out in the sun. We build all winter so we can make it happen in the summer.
 What do you usually order at a coffee shop?
I go to Huckleberry Roasters because that's close by me. I also go to Downpour Coffee because that's right by my art gallery. I always order a latte to go with extra shots; it's always with extra shots. I don't get a chance to sit down; I've always got to take it to go. I always do a hot latte in the morning. Once it gets to be a round 11 and if it's a hot day, I'll get an iced one.
Go see the art! Here's where to find some of Anthony Garcia Sr.'s work: