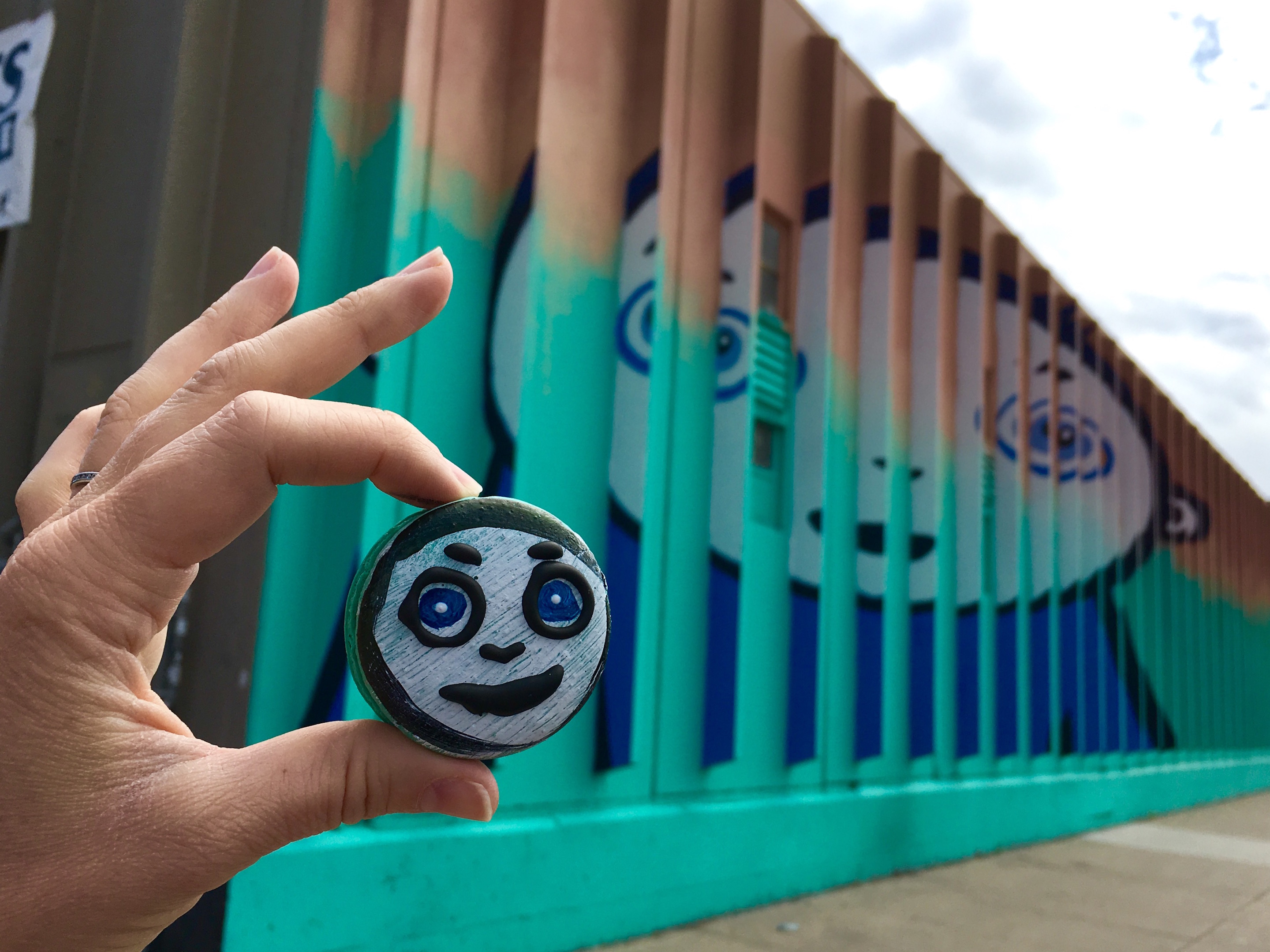 Jeremy grew up in Colorado Springs and Crested Butte, Colorado, the son of two teachers. He graduated with a BFA in painting and printmaking from Western State in Gunnison and moved to Denver in 2002. He has lived and worked in RiNo since 2004.
Tell me about painting your first mural.
My first mural is actually on Like Minded Productions' outer wall that faces north, that you really can't see from anywhere, other than the big apartment building across the street. It's a long brick wall with a series of four faces on it. I had never painted a mural until late 2014. I started painting murals because I had gotten in a really bad car accident and hurt my arm and I wasn't really able to do fine movements. So, I talked to Jonathan Lam and Michael Ortiz, who run Like Minded Productions, about trying to get a wall so I could paint something big, as a way to start painting again and as a weird form of art therapy so I could do big motions with my arm. They offered up that wall and said, "if you want to paint it, it's all yours." So that was my first mural.
In general, what's your process for creating a mural?
A few of my murals I've adapted from paintings I've done in the past. The "Larimer Boy" and "Larimer Girl" are altered versions of a few paintings I did in the past that I thought really would work well on that wall. I started with those paintings and redrew them in a more linear fashion, as line drawings. And then I scanned that into my computer and then used a projector with my computer to project that line drawing onto the building at night.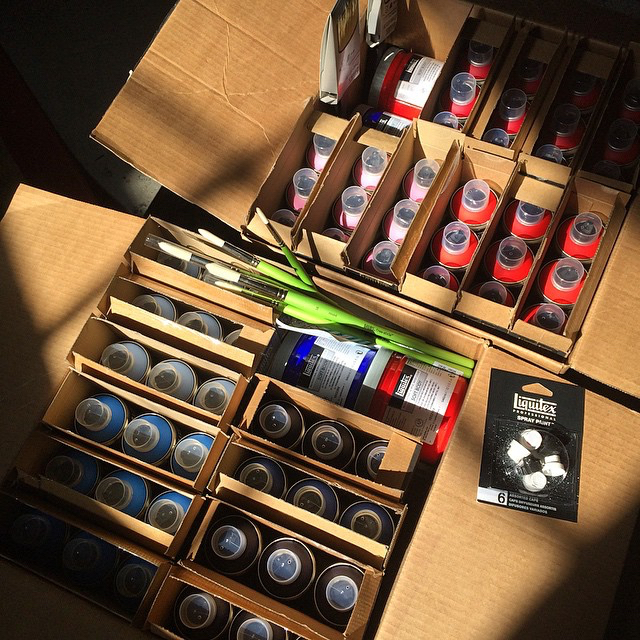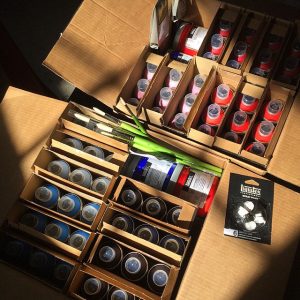 I've also done murals where I just freehand them using sidewalk chalk. Once I had a few shapes that I liked, then I started using the spray paint. That's another thing that I'm not that used to, using cans, so that's been a whole new journey to learn how to use the materials of mural making versus the paint and a brush, which I've been doing for years and years.
I use a combination of latex bucket paint and spray paint on my murals. I like to work day or night, but I seem to get the best, and most, work done at nighttime when people aren't out walking around.
I like the idea, especially with my studio work, of having a painting and then releasing it out into the world to go have its own little life. You never know where it's going to get hung, or who's going to buy it, or if they will give it to someone else or leave it to their kids. 
What do you think is the role of art in the public space?
Obviously, it has a positive effect on the community, even if it's something that someone may not like, it creates a dialogue and it's just something that isn't more brick and concrete. Art in the public space is exciting and it livens up the community. It brings interest and focus to parts of town that are kind of neglected. It adds a whole other dimension to a neighborhood. I really like seeing my favorite pieces each day and also look forward to seeing what new pieces will appear.
I think the whole selfie/Instagram culture is really fun and that people are out there looking for the most awesome backdrops. It's a no-brainer that Larimer is one of the best spots for that.
Who has been the biggest influence on you?
Jonathan Lamb and Mike Ortiz of Like Minded Productions have been the ones who have helped me with almost every project I have done in terms of murals. As far as my art career along the way, obviously I had some great college professors and some people who really nurtured my art bug very early. Since I've been in Denver, I've interacted with Core New Art Space, Space Gallery, and the former Andinken Gallery, Hyland Mather has always been a great friend and supporter. As far as artists, I love the work of Scot Lefavor, Amanda Marie, and obviously Mike Ortiz and Jonathan Lamb, Molly Bounds, Pedro Barrios and Jaime Molina. Denver is such an inspirational place to be and especially with all the great street art, it's impossible not to be inspired and it make you want to contribute and step up your game.
I've always been really obsessed with eyes, with painting eyes. I think it might come from the fact that I have really terrible eyesight and I've always worn glasses and contacts. I had a couple of really bad accidents as a kid where I very well could have lost my eyesight and I grew up hearing about those stories.
If you could put your artwork on any space in the city, where would that be?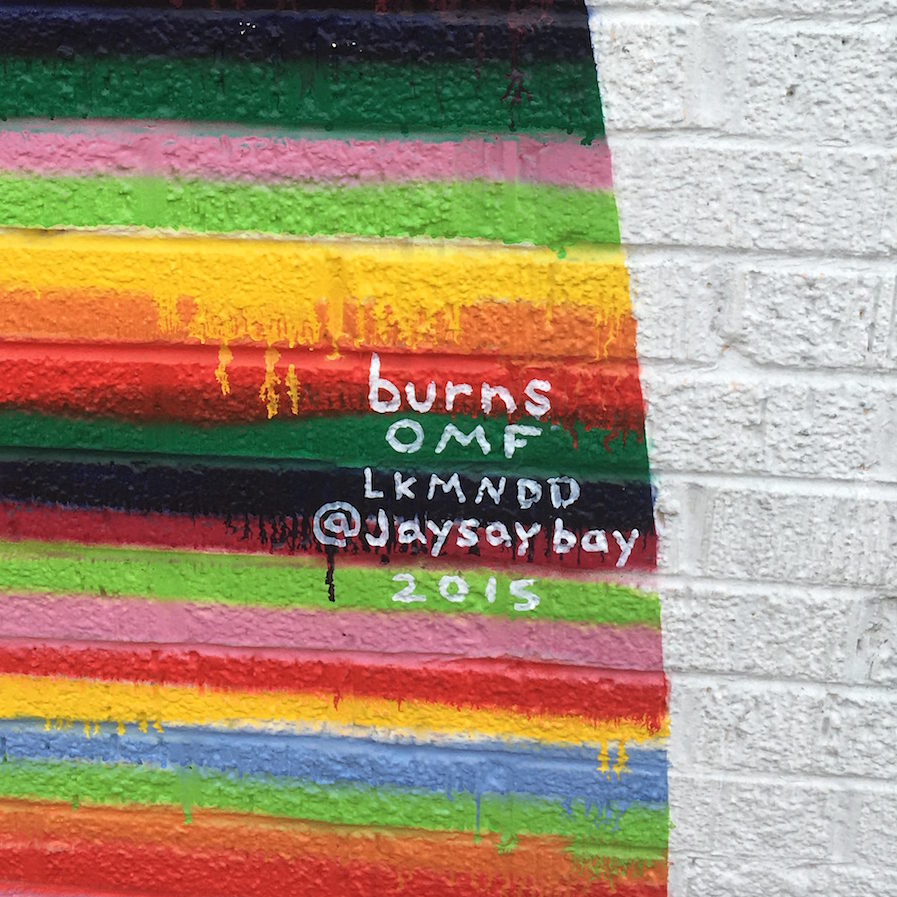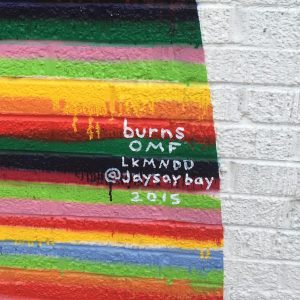 It's hard to say an exact spot, but there are some buildings in the industrial part of town, up and down Brighton Blvd. that I would like to paint. Once you've done some murals and big pieces, it's hard not to drive around and look everywhere for the perfect spot. I like industrial settings because that's what I'm used to. I feel more at home in spaces like that, than I would walking around places like Cherry Creek.
What's something you think passersby might not notice about your work at first glance?
I think my work is pretty bold and pretty simple. There's not a lot of hidden stuff there; it just is what it is. One of the compliments that I've received about my work is that you can recognize one of my paintings from a hundred feet away, and that you see it and say "oh, that's a Burns." I think my style works well on a big wall because it's so simple.
What does the future hold for you in terms of your art?
There are a few murals in the works that would be paid commissions by companies, but as they're still not final, I can't talk about them just yet. I'm still doing my studio work and doing some commissioned portraits for clients. I paint primarily dogs, cats and children. It's fun to adapt my style to a new challenge with each job.
What does summertime in Denver mean to you?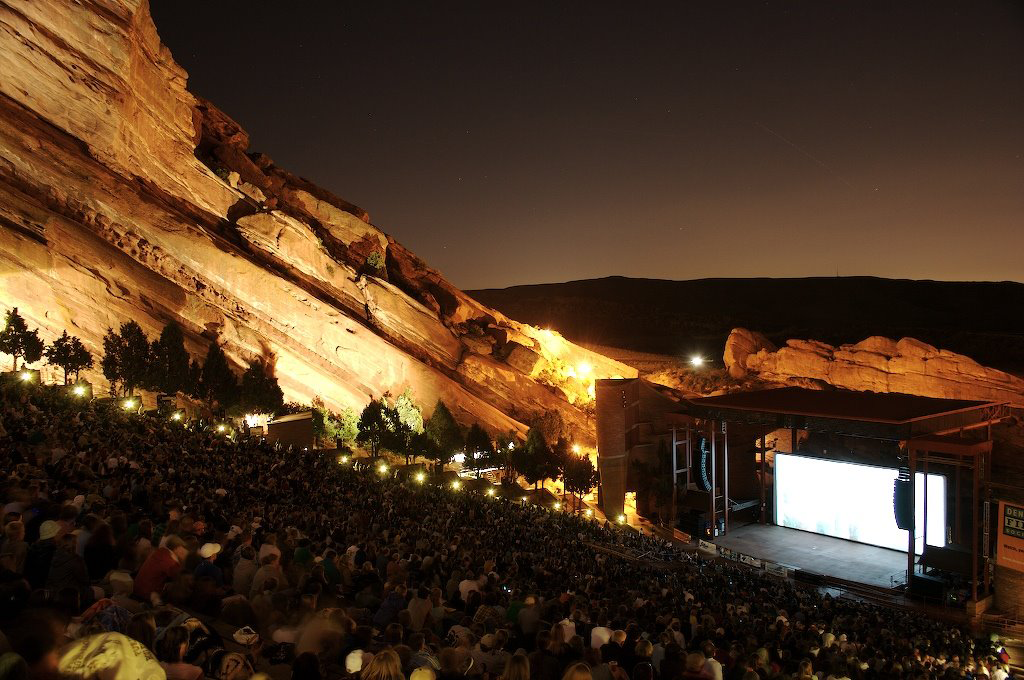 I'm definitely an outdoorsy guy. I love to camp; I love to get out of town. I like to ride dirt bikes, do trail riding, hike and fish. I also like to go see concerts at Red Rocks, see Film on the Rocks and hang out on patios. We're really blessed with the sunshine we have here and I like to take advantage of that anytime I can whether it's hanging out on a patio, riding my bike to meet a friend or going to the park. I just love summer as it's more of a social time of year when people can hang out and relax with friends.
What do you usually order at a coffee shop?
I'm not a huge coffee shop person, I'm more of a brewery person and Mexican restaurant person. I guess I'm a tea guy; I like a nice cup of tea or some iced tea. But really, I'm a Mexican restaurant guy. I'm always on the look out for great tacos. I like Tacos Jaliscos, Los Carboncitos on 38th, El Taco de Mexico on Santa Fe and the Cold Crush tacos. With breweries, I pretty much like it all. I actually work part time at Spangalang Brewery.
Go see the art! Here's where to find some of Jeremy's works: