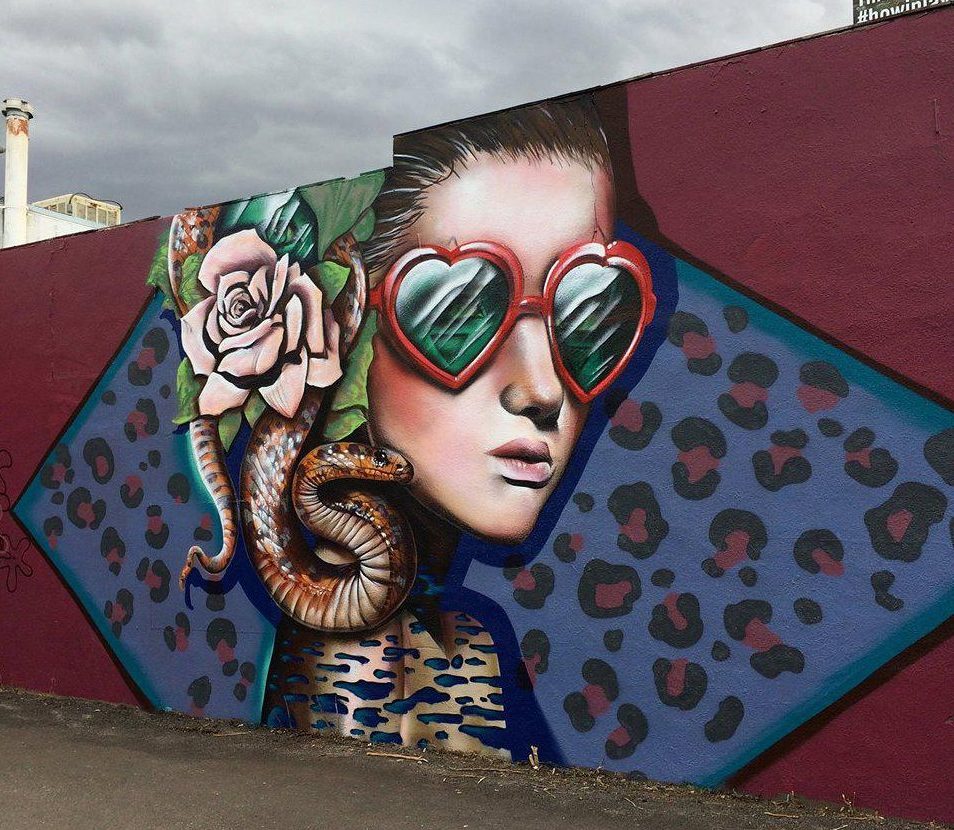 Victoriano Rivera – @yungleeo
Victoriano grew up in Harlingen, Texas (located at the southern tip of Texas, 30 miles from the Gulf of Mexico), and came to Colorado to attend the Rocky Mountain College of Art and Design (RMCAD) where he earned a BFA in Fine Art Painting in 2014.
Website: www.victorianorivera.com
Tell me about painting your first mural.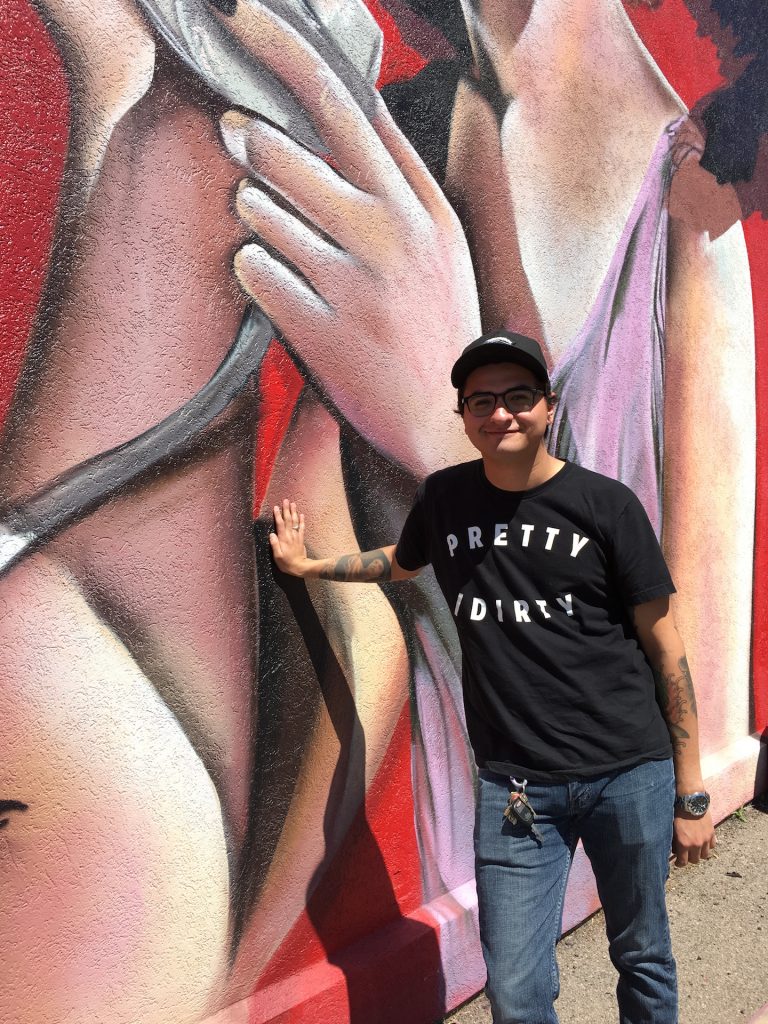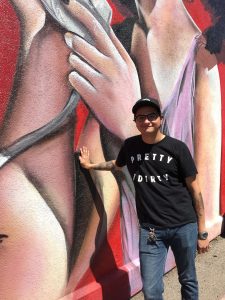 I want to say that they're all in Texas. I started really young. I probably picked up a spray can when I was 16. My mom wasn't really into it, but she'd still buy me my cans before I was old enough to buy them myself. I started as a graffiti writer; I was doing letters and kind of abstract graffiti at the time. And then I decided that I wanted to start doing characters. At that point, I was just copying reference photos onto the wall. I did that for a while in Texas, but then I started to get bored with just copying things. I learned a lot of stuff though; it taught me a lot about colors value and proportions. Some of my older stuff in Texas is pretty wonky. I wish I could go and paint over it and have a fresh start.
When I first started painting, I would go to business with my portfolio and ask them if I could paint something on their building and they totally just let me. There were like 5 of them that I did down there in my little hometown of Harlingen, Texas.
Whatever takes people's face out of their phones is cool to me. I like bringing older cultural references into the present.
In general, what's your process for creating a mural?
The process is pretty much can to wall. I don't use a projector at all. I have an initial sketch. The piece at Meininger's started with a black and white photo of the girl on the phone and then I added color, and then the murder of crows, and then the window and the car. But, yeah, it was pretty much just straight up can to wall. I had to go back a couple times to get the proportions just right. I feel like I busted out 6, maybe 7 hours a day for maybe 6 days and then it was done. It was really tough to buff that wall, it just ate up so much of my wall paint. I use a roller for the background and then use spray paint on top of that. ("Buff" is a graffiti term for the paint used to cover up an existing design, as in "did you bring the buff paint?")
What do you think is the role of art in the public space?
Probably to amplify the consciousness, I think. I feel like people just go through life drifting and that they don't really realize the spectacle that it is. I think street art brings that out a little bit. It's like, "look at this! Look at this!" It wakes people up to their surroundings. I think that's even true with graffiti writing at 4am on some building, you're really aware of your surroundings and notice these things that other people don't really notice.
Street art and graffiti is definitely a commodity now. If you look at all the street art festivals that are happening all over the world now, you didn't see that like 5 years ago when Banksy was doing his street art illegally. I think he still stays true, but it's more of a commodity now and people make money off of it. It's not bad or anything, it's just that things have changed. Hardly anything that's being done right now is illegal anymore, except for graffiti letters. I love the way it looks when there are these massive mural festivals and then graffiti writers come along and just throw up something of their own. I know the muralists don't like it because their work got vandalized, but I think it looks really cool.
I like how instant spray paint is, like if someone were to paint a mural by hand, it would take like 5 months with a brush. 
Who has been the biggest influence on you?
There are so many people, but certainly a lot of my local friends have had a huge influence on me like Caleb and Lucas McMann. I was really into photorealism when I got started and so I looked at work by Berlin and this guy named Best Ever because they had achieved such a high level of photorealism.
If you could put your artwork on any space in the city, where would that be?
I think there are some pretty nasty walls in downtown Denver that could use some sick art on them. I'd love to work on some massive walls in downtown.
What's something you think passersby might not notice about your work at first glance?
In terms of the mural at Meininger Art Supply, I don't know if they would know that the eyes, the gold dots, are actually stickers. I cut out circles from these gold sheets and glued them on the wall. I used some heavy duty stuff, so they'll probably be on there forever. I wish I could paint circles that perfect.
I just started a new body of work last month. It's all about distortion. I think working at the MCA (Museum of Contemporary Art) definitely opened my mind to what art can be. 
What does the future hold for you in terms of your art?
I love painting street art, so I certainly plan to explore that more. I'm going to Israel at the end of May for Artists for Israel. I'll get to paint some murals out there with youth. They also have a bunch of walls lined up for the artists as well, so that will be cool.
I really want to explore the gallery scene, have my work in a gallery and be represented. If I could sell paintings for the rest of my life that would be so great. I want to do studio work and public art, and sculpture; I want to do it all. At the moment, my main source of income is signage murals, like lettering. I have 4-5 on South Broadway.
What does summertime in Denver mean to you?
Painting way more. The cold kind of puts things at a standstill and makes things kind of slow. I'm definitely going to be doing more painting outside this summer. Summertime makes me think of Colorado Crush. I think that's going to happen in September and I'm really looking forward to that. I hope to be painting there with some of my friends. There are a lot of my old graffiti murals along Santa Fe and 'd like to go paint over all of those and do my own thing, something new, some pro bono beautification.
 What do you usually order at a coffee shop?
Chai. Definitely chai. Always cold chai.
Go see the art! Here's where to find some of Victoriano's works: